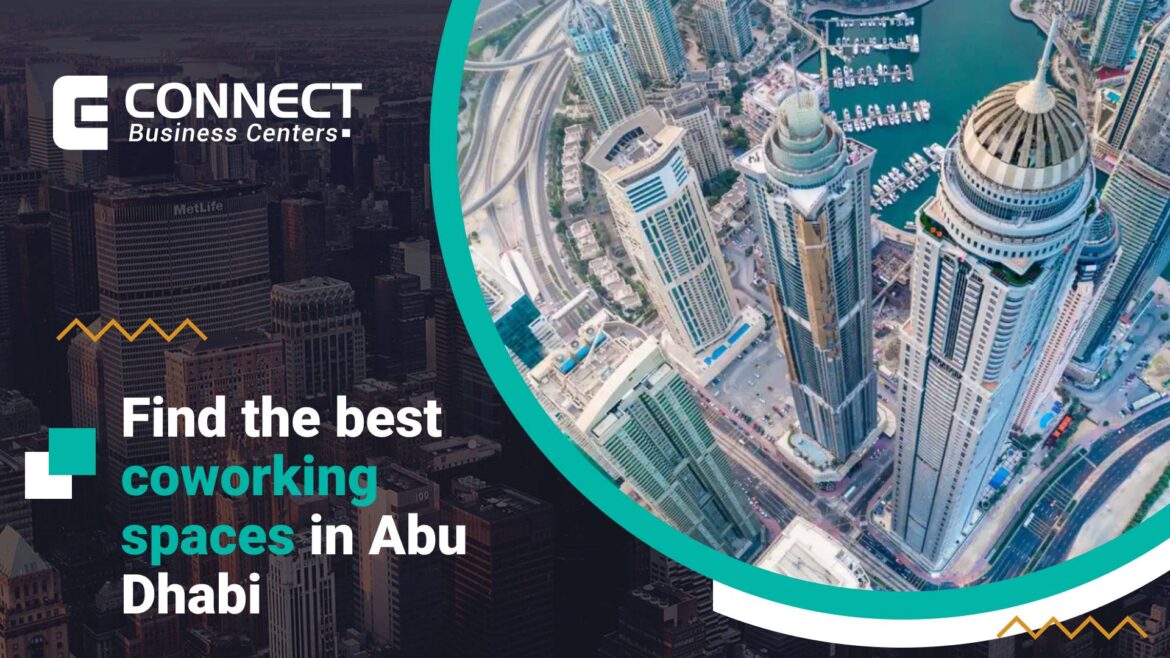 Coworking spaces are locations where people can go and work on projects together. In effect, they are collaborative working places allowing members to operate alone but cooperate if desired while sharing the same services, as they offer the best professional and collaborative atmosphere. There are currently around 17,000 coworking spaces in the world. Indeed, it is a thriving business
In this article, we will address the features of coworking offices in Abu Dhabi. We will cover the following aspects:
What is a coworking space and what does it offer?
Which are the top zones to rent a coworking office in Abu Dhabi?
What are the advantages of coworking spaces?
Types of coworking spaces in Abu Dhabi
What elements should you consider when deciding on a coworking place?
How can we assist you in locating the ideal coworking space in Abu Dhabi?
1. What is a coworking space and what does it offer?
A coworking space is a rented site with options such as private office space, virtual office, meeting rooms, serviced offices, lounge, kitchen spot, parking facility, and similar. Coworking spaces save businesses expenses on structures and upkeep since costs are shared by several clients. Due to this fact, lessees have more time to focus on their businesses.
In practice, coworking spaces are sites where people can work freely and creatively while sharing the needed equipment. In addition to renting a spot, tenants benefit from the ability to connect and interact with freelancers, entrepreneurs, and other professionals.
You can find some of the most famous global brands in coworking spots in Abu Dhabi, offering well-designed workspaces and high-quality comforts. If you want to know where the best coworking spaces in Abu Dhabi are located, this guide will assist you in finding the finest one for you.
2. Which are the top zones to rent a coworking office in Abu Dhabi?
Abu Dhabi is characterized by its hospitality and simple procedures to invest and reside in the UAE. You might be wondering where the best places to hire a coworking site in Abu Dhabi are. Consequently, we gathered a shortlist of notable sectors in Abu Dhabi.
2.1 Hamdan Street & Abu Dhabi Corniche
This is a premium area for a central location. For sure, one of the busiest business sectors in the city, it is a popular spot to live and work. Located on Corniche Road, have several restaurants and cafés and many other attractions.
Because of its strategic position, it is adjacent to other vibrant commercial sectors across the city. For example, Al Markaziyah West and Al Khalidiyah. In addition, many coworking spaces in this area have stunning sea views or overlook lush green parks.
2.2 Twofour 54
Twofour 54 is an Abu Dhabi top location for coworking spaces related to the media industry. It is a free zone producing all forms of the media such as events, films, digital media, publishing, music, broadcast, gaming, and others. In short, the perfect spot for coworking dedicated to creativity.
2.3 Abu Dhabi Airport free zone
This is a top logistics and import/export area. Of course, it is perfect if your coworking space involves those items or other industries that require nearness to one of the country's busiest international airports.
Other industries suitable for coworking spaces in this zone could be defense, airport services, cargo, pharmaceuticals, and consulting.
2.4 Masdar City
Masdar City is a global reference for firms specializing in sustainability, particularly renewable energy. Therefore, in this Abu Dhabi city, you can find coworking spaces for firms that produce or create energy items and future green technologies. The region distinguishes itself by becoming a green city running only on clean power.
2.5 Elektra Street
Elektra Street recognizes as the city's never-sleeping street. While it is one of Abu Dhabi's oldest quarters, it is the location of a huge electronics market. It is in the middle of the city, with easy access to attractions such as stores, stores, and other services that your clients would like. The perfect location for the most desired coworking offices in Abu Dhabi.
3. What are the advantages of coworking spaces?
There are many benefits to using a coworking place in Abu Dhabi. Pay attention to these:
3.1 Networking
One of the most significant advantages of coworking spaces in Abu Dhabi is the source of relationships they are. Note that this Emirate is one of the most attractive regions for investors worldwide.
Sharing spaces with other people can help spark invaluable networking opportunities leading to inter-brand collaborations. Not surprisingly, these coworking spots in Abu Dhabi are assisting in jump-starting the growth and development of many firms.
3.2 Increased creativity
Working with people and businesses allows you to get a wealth of knowledge and ideas that you may apply to your next business effort. In Abu Dhabi, coworking spaces are nurturing a slew of new freelancers coming from abroad. Consequently, shared creativity has improved too.
3.3 Enhanced productivity
Individuals who work from home are subject to distractions that a house might bring, such as crying babies, cleaning up the house, and the like. Relocating to a coworking place in Abu Dhabi reduces interruption and helps finish your task creatively and on schedule.
3.4 High-quality services at a lower cost
Coworking spaces provide people with a limited budget access to facilities and services otherwise out of reach. Even the most basic coworking spots in Abu Dhabi give quality pantry space, the Internet, receptionists, and printing services.
3.5 Cost-cutting option
Coworking offices in Abu Dhabi only charge you for the areas you want to use and provide advantages such as cleaning personnel and printing services at no extra cost. Certainly, this is critical for small firms desiring to continue growing without dealing stress of long-term leases.
3.6 Private and shared office space
One of the best aspects of coworking is that they offer private and shared offices. These replace typical cubicles with colorful conference rooms, a mix of hot desks, glass-walled private offices, and lounge spaces. Private and shared workspaces allow employees to choose between solitude and quiet versus team brainstorming sessions.
3.7 More freedom
Freelancers and small firms sometimes lack the means to sign a long-term lease for office space. Coworking spaces in Abu Dhabi are bookable on a short-term basis, giving considerably more control over your management of the places.
3.8 Work-life balance
Work-life balance is critical for your mental health. Everything gets hazy without a framework between your personal and professional obligations. So, there must be a place to go to work and a site to return for family and relax.
A coworking space in Abu Dhabi, particularly if has a broad offer of amenities, is the perfect site for healthy working.
4. Types of coworking spaces in Abu Dhabi
There are many kinds of coworking places in Abu Dhabi. Usually, you can change everything, including the layout and the services you obtain.
4.1 Types of coworking spaces
A complete description of your options for renting a coworking place is the following:
A conventional or open coworking space in Abu Dhabi does not aim toward specific organizations, focusing on establishing a shared and collaborative atmosphere in which freelancers and businesses from different industries may do their work.
Affordability is a top focus in minimalist coworking facilities. Often, it provides just the most basic utilities, such as Wi-Fi, power, water, and minimum furniture. It is an excellent alternative for people who do not require many services.
Incubators are for start-ups and young businesses. Therefore, they cater to smaller, more cost-conscious businesses. Frequently, the coworking spaces in Abu Dhabi provide business advice, cash, and networking opportunities.
This sort of workplace caters to more corporate clients. Consequently, they supply a more private and typically quieter atmosphere. They are also a less expensive option for high-end workstations.
This sort of place encourages far more inter-company collaboration. These are often specialty workplaces that only allow members from a certain industry. Healthcare professionals, law businesses, and even creatives and artists may have specialized workplaces.
These are of higher quality and offer a wider range of benefits you can access. They provide convenience while covering a larger quantity of services. This type of coworking space in Abu Dhabi is more expensive than others, but its elegance and comfort, typical of this wealthy Emirate, are worth it.
5. What elements should you consider when deciding on a coworking place?
Coworking spaces help form meaningful relationships leading to possible cooperative initiatives. So, selecting your best spot is a relevant process. Carefully look at the following points.
5.1 Prices
Coworking spaces come with many advantages, but look out for what they include in their subscription and examine whether or not it matches your budget. Below are more tips:
Membership and time controls
In general, any company may provide different coworking packages in terms of time. You have the option of renting by the hour or by the day. Also, you may join up for a monthly, quarterly, or annual membership. It recommends becoming a member if you want to use a collaboration space regularly.
Hidden costs can creep up on you and should avoid wherever feasible. Some coworking spaces, for example, charge for printing and scanning services.
Plans can provide specialized services to help you perform better and thrive as a business. These designs should provide for flexibility in constructing your private office while keeping financial commitments in mind.
5.2 Setting and surroundings
Another thing that makes coworking spaces appealing is their location. The optimal shared office would be near your home. Inquire about local parking as well as food and restaurant alternatives.
Also, think about the feelings of your clients. For example, a fantastic place has to be a few steps away from the most prominent sights, cultural sites, and shopping alternatives.
5.3 Office atmosphere
Coworking spaces are as unique as the people and teams who work in them. So, look for a location in which people are inspirited and act as motivators.
Clearly, it should be a setting that promotes significant networking. Bonding amongst colleagues from various teams in shared workplaces might encourage participants and help relieve stress.
5.4 Amenities and other services
Doubtless, amenities are a crucial aspect of the success of a coworking place in Abu Dhabi. The adaptable room should have all of the conveniences required for work. Look for a location that has:
Fundamental office services
Shared desks, general technology, office furniture, office equipment, and conference rooms are elementary services in a coworking workplace.
A reception space, kitchen, cleaning services, maintenance, and mail handling are all popular office facilities to look for as part of your package. Also, a coworking space should include standard facilities like coffee, high-speed Internet access, and printing.
Available high-end services
Examine the area to see if it is suitable for high-performance work, such as video monitors, Internet TV, and conference rooms for up to ten people.
Equally, use local eateries or social places since these provide possibilities to engage with coworkers or host clients.
5.5 Adequate space and safety
Check that you have enough space. Hence, opt for a coworking space in Abu Dhabi with a large, open office style. If not, it can be uncomfortable.
Similarly, it is critical having confidence in your personal and goods protection. You want a place where leaving your work over your lunch break. Inquire about the security procedures.
Weight the offers to be sure your deal is the best. Your coworking spaces must meet your requirements regarding each criterion above.
6. How can we assist you in locating the ideal coworking space in Abu Dhabi?
A coworking space offers numerous opportunities. Now, you know what questions to ask while looking for the best space. Moreover, you have learned how a coworking office in Abu Dhabi allows you develop a strategy for expaning your professional connections.
In this regard, Connect Business Centers provides services to assist you in analyzing your office space needs. Also, by accessing our network of business centers, we can assist you in finding the most convenient locations. In this way, you can quickly and easily access a clean and inspirational work environment.

Would you like to find the most suitable space for your small, medium, or large business? If you have any questions, call us at +971 43 316 688 or write us an email at contact@connectbusinesscenters.com. We will be pleased to help you, contact us!
Are you looking for a new job? Register on thetalentpoint.com and upload your resume! Expand your horizons as you start receiving job offers from diverse enterprises in the UAE. Do not worry about your data's safety, you can also apply through contact@thetalentpoint.com where any information you send will not be stored.