Our efficiency levels are impacted by our atmospheres. Some people work better in harmony and a quiet place, others are more efficient in a busy working space. With Dubai being a great entrepreneurial hub, much of the country's population have their own commerce or works freelance so these places are the best solution to provide a unique location to work from.
In this article, we will explain why looking for a working space in a city as active and lively as Dubai becomes easier when you have to yourself a list of some of the best co-working spaces around Dubai.
What are the common reasons why companies opt for co-working spaces?
What are the disadvantages of shared office spaces?
Advantages of co-working spaces.
Understand the dynamics of co-working spaces.
How do co-working spaces in Dubai work?
Looking for working space
How can Contact Business Centers help you get more information about co-working spaces in Dubai?
1. What are the common reasons why companies opt for co-working spaces?
Cost: This system is very useful for start-up corporations. Most start-ups today are in the high-tech sector. This means that it requires working spaces with facilities such as video conferencing, VoIP-enabled phones, Internet lines, etc. However, equipping all these facilities from scratch is a bit expensive for start-ups, who are usually strapped for cash.
Infrastructure: Joint workspaces allow reducing the cost of the operation without affecting the quality of the infrastructure. Typically, such shared workspaces have conference rooms and even video conferencing facilities. Companies got ready infrastructures from day one.
Travel comfort: Several multinational companies tend to opt for this model in cities. This is because these companies do not require a full office in those cities. Instead, they have a team of 10 to 15 people. They do not want to compromise on the quality of the office space or the facilities they offer their employees.
Shorter commute times Employees in big cities are tired of spending hours going to and from work. In addition to an eight or more-hour job, many people spend many hours commuting. This travel time does not add value and therefore should be eliminated.
2. What are the disadvantages of shared office spaces?
Cost allocation: Cost allocation in a shared office can be a very difficult task. In a rented office, the business pays all bills for electricity, water, property taxes, etc. However, in a shared workplace, these costs must be prorated. This is where the disagreements start to happen.
Each company may believe in a more appropriate metric to allocate expenses. Also, since the project is being shared, companies will not have an incentive to minimize the use of electricity, water, or other such expensive resources. Developers are trying to circumvent this problem by including these costs within the rental prices. However, that ends up causing the waste of resources and even leads to disputes in many cases.
Privacy: Shared office spaces are cheaper and have a better structure. However, most companies would not feel comfortable locating their critical operations in such facilities. The reason behind this is simple. There is a chance that data or other intellectual property will be stolen.
The future of office spaces is likely to be a combination of the two representations. Regular and mundane work, which is not mission-critical, can be done in shared workspaces, due to the lower costs and other advantages they offer. However, high-end tasks involving sensitive data and strategy information may continue to fall within the purview of leased workspaces.
3. Advantages of co-working spaces
They normally lead to more significant and prolific work. Another reason co-working spaces in Dubai have become a trend is that they often help people be more productive.
They also develop as professionals much faster, but why? One reason could be aesthetics and atmosphere. The co-working space is planned to inspire workers. Your regular co-working space can offer you a much more pleasant work environment than traditional space.
Many people are and feel more creative when they work organized with other hard-working people. If this sounds like you, it is probably a good idea to find your hub of productivity and professionalism.
And finally, co-working spaces in Dubai for freelancers. By familiarizing yourself with the concept of co-working space, you will be able to establish the boundaries between your personal and workspace. Everything you need is provided, the distractions of home life are removed, and you have a quiet, purpose-built place to focus on your tasks. Connect Business Centers can help you with this type of office space.
4. Understand the dynamics of a co-working space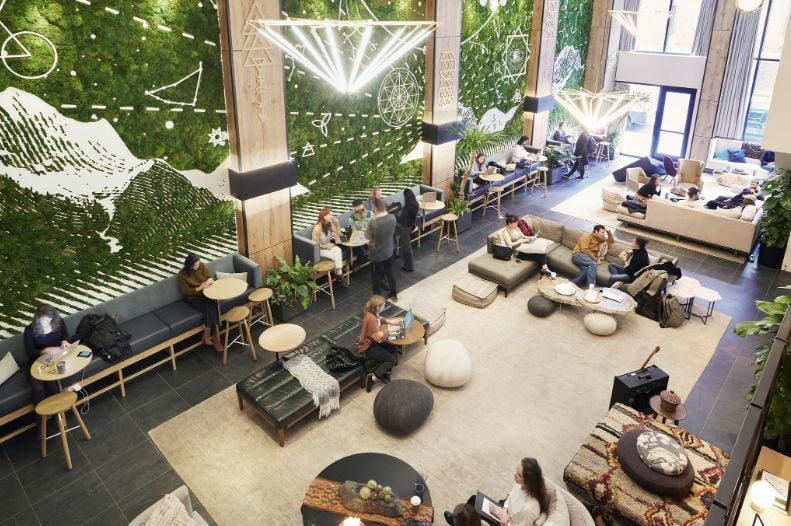 Co-working spaces in Dubai can help with isolation and networking.
In case you work from home, you should know already how easy it is to find a cabin. The presence of co-working spaces can give you something that is an elusive factor that you need for your productive day.
No matter how great your home office is, getting out and getting some fresh air can do wonders for your motivation and happiness. And even working one day a week in shared office space can give you a clear sense of place and purpose.
The shared office space is also a great place to expand your network. You will meet people from all areas of work and walks of life. Just visiting co-working spaces in Dubai will offer you more opportunities for collaboration. If you are a freelancer but lack social interaction and communication in the working space, co-working could be the missing link.
In short, co-working is a common workplace for professionals. They are often used as an alternative to working from home as they provide an office environment where some people find work easier or more stimulated. Co-working spaces in Dubai typically include Wi-Fi, desks, breakout areas, conference rooms, printing, faxing, and scanning facilities, and shared kitchens.
5. How do co-working spaces work?
Most shared workspaces work on a subscription basis, so you can rent a working space for a year, a month, or even an hour, but this is not the only option. This is a common question when renting a working space.
5.1 How do you get a place in the co-working space in Dubai?
Depending on where you go, you can get a place, but as a rule, there will be some form of application. Usually, there is an online form to fill out, and then depending on the total work area, there may be other steps for you.
It is cheaper to rent than a traditional office, it does not require the same long-term commitment, while commercial offices generally require a minimum rental period of two years. If you are thinking of setting up an office rental business, our agency has all the solutions.
The existence of co-working spaces could give you something that is often indescribable. An important motive to get out of your house. No matter how great your home office is, getting outside and getting some fresh air can do wonders for your motivation and happiness.
Social connections at work provide support, and feeling useful to other people is an important way to generate positive emotions.
Teamwork is the essence of knowledge work that encompasses four activities: learning, socializing, collaborating, and concentrating. Three of these activities engage two or more people in creating, evaluating, and building on knowledge to generate new ideas and creative solutions. Modernization is a consequence of teamwork.
6. Looking for working space
6.1 Nasab by KOA
A luxurious community with a workplace and a club for UAE's most captivating "thought frontrunners and game-changers". The place has an elegant visual that makes you feel at home. Applicants should prove their level of interestingness, in order to be considered.
Cost: Nasab has restructured its membership into three levels. Drop-in allows unique business owners to rent an office for the day, with prices starting from AED140.
Characteristics: Apart from the interminable facilities and beautiful interior, the club also has systematic events, workshops, and deliberations to help the associates to collaborate. You can also have access to some stunning swimming pools, and a tennis court.
Koa Canvas. Wadi Al Safa 3. Dubai.
6.2  A4 Space
Situated in the art hub of Dubai, Alserkal Avenue, the coffee shop is an absolute winner, with delightful organic produce and drinks from homegrown favorite Raw Coffee Company. There are desks upstairs and small reading nooks you can climb into and lose yourself in a book.
Cost: The place is free to use.
Characteristics: Great Wi-Fi, a cinema screening area, and a community library.
Warehouse 4, Alserkal Avenue, Dubai.
6.3 Astrolabs
Located in JLT, the sun streams into Astrolab's workstation and brightens an enormous 'Make It Happen' symbol on the wall as tech start-ups work away at their projects. It is a community feels with success stories.
Cost: Prices start from AED750 per month; AED 1,500 will get you a flexible membership with 24/7 admission and additional bonuses; and it is AED 2,500 per month when signing up to an annual agreement, including an employment license, sponsor for five residents, and access all the time.
Characteristics: With an emphasis on tech industries, the place is perfect for businesspersons with open plans, bookable meeting places to stay, a coding cave, and a device lab to check your apps.
Cluster R, Jumeirah Lakes Towers.
6.4 Nook
This place's design focuses on helping sports, fitness, and wellness industrialists set up and run their commerce. They offer profitable licensing and space in a cooperative working atmosphere.
Cost: Co-working desks start from AED60 per day, AED250 per week, or AED 1,000 per month. Still, you can also rent office spaces, studios, 'Zoom rooms', event rooms, forum areas, and much more.
Characteristics: Purpose-built studios and exercise areas with showers and changing facilities in place. Regular public socials, talks, and training workshops. Furthermore, all co-working plans include a marketable license for your company.
Nook, One JLT, Jumeirah Lakes Towers.
7. How can Contact Business Centers help you get more information about co-working spaces in Dubai?
Finding a co-working business space is a great advantage for your company. That is why we are here. In Connect Business Centers we make things easier, you will not have to struggle while selecting the best co-working space near you. We offer diverse alternatives that fit your requirements.
We would like to guarantee that you can discover the best place, the spot of your dreams. Discover how the trend of offices in Dubai fits your ideas and budget. Connect Business Centers has more than 20 years of experience. We have been mastering our locating services and building systems to make the best out of this.
Contact Business Centers has the ability to allow your industry growth. We offer our services to small, medium, and big companies all through the UAE. Our mission is to be the bridge between you and your perfect co-working place.
Would you like to contact us to get more information about co-working spaces for your business? In case you have any questions, write us an email at contact@connectbusinesscenters.com.
Do not forget to send your information, resume, and CV to thetalentpoint.com or contact us at contact@thetalentpoint.com.