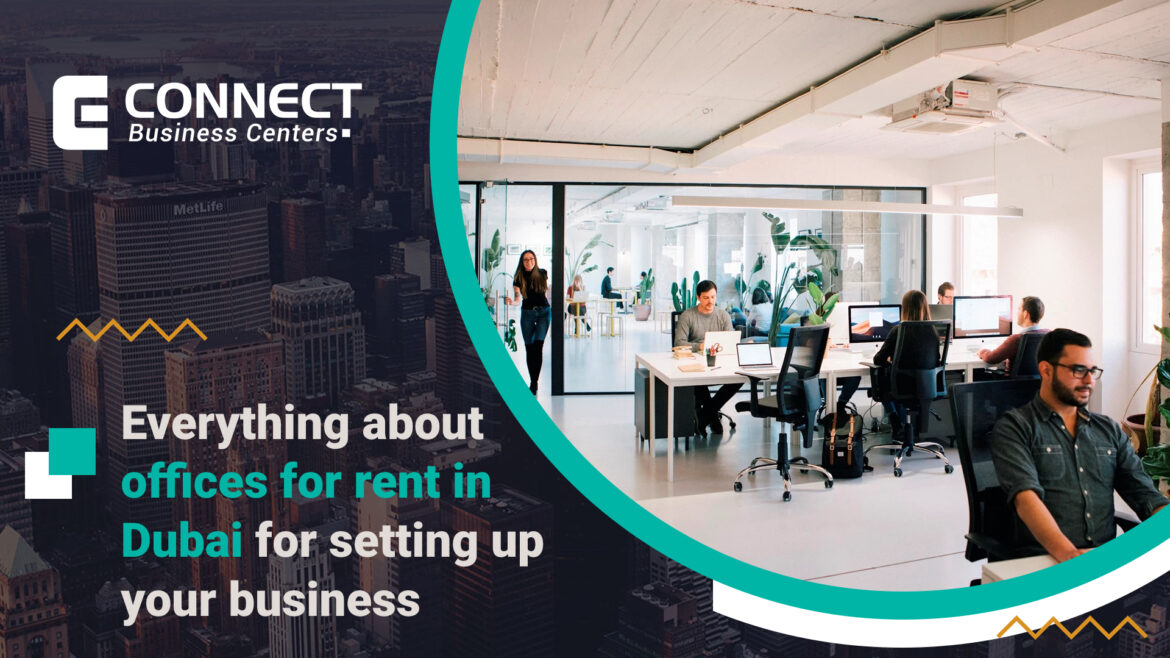 Selecting an office space for rent in Dubai is a hard decision. Not choosing the perfect space to set up your business could lead to an unsuccessful result. The location of a company can be critical for its profitability. Thus, acquiring knowledge and receiving professional advice is imperative before renting a space.
In this article, we will show you all you need to know about offices for rent in Dubai to set up your business. You will learn about the importance of knowing your business before choosing a space. Being informed will help you make the right judgement. Let us take a look:
Why is it necessary to rent office space for my business?
What makes an office for rent in Dubai pleasant?
Components of an ideal office space
How can I find the perfect office for rent in Dubai?
What should I question before selecting an office for rent in Dubai?
How can Connect Business Centers help you?
1. Why is it necessary to rent office space for my business?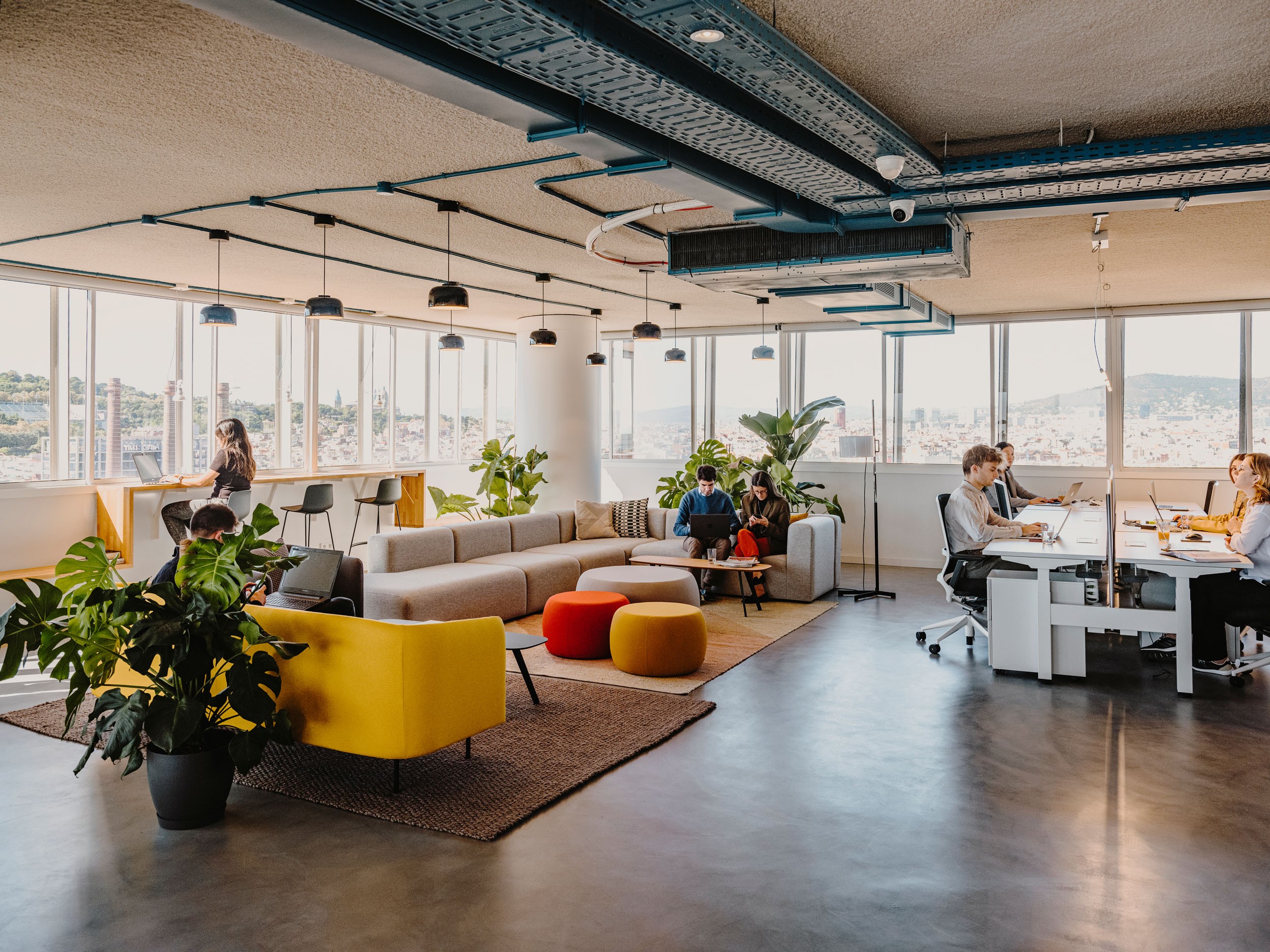 Understanding the necessity of having an office space for your business is crucial. In short, office space is a place where a company resides and operates. Co-working spaces generally come in different types and locations. Choosing the right office space for rent in Dubai can be quite a hassle. But, with the help of an agency, it can become easier.
Having an office provides your company with the opportunity to create its culture and establish an identity. It helps to attract and retain more talent. Having an office space for rent in Dubai allows employees to create, innovate, and collaborate. Which ultimately leads to offering better products or services.
Due to the many changes being implemented in the last two years, running your business under a 9-to-5 schedule can be obsolete. However, needing a structured workplace cannot be forgotten if you are searching to expand your workforce. Having a space where to commute provides great social interaction between employees.
The importance of offering a functional office space for rent in Dubai cannot be overemphasized, even if you have remote workers. Holding the right space for them is essential. Correspondingly, having an office space allows you to streamline workflows and improve productivity, even if you are a freelancer.
In addition, a functional office space adds to the value of a business and also helps in appealing to more clients and a quality workforce. An office provides your clients with information about who you are, your culture, and how organized your company is overall.
A workspace of your own will allow you to facilitate the conditions to grow in your area. It will bring you many professional opportunities that will help you establish your business. Unquestionably, having a rent office in Dubai provides your workers with a place to socialize and build great connections.
2. What makes an office space for rent in Dubai pleasant?
Working in an office space means that you devote a lot of time there. So, it is significant to offer a pleasant environment for your employees. Finding the right office space for rent in Dubai is not difficult when you have a team of experts guiding you through the process. Nonetheless, it is important to know the basic commodities you need before renting a space.
2.1 Open Workspace
Small cubicles and compartments are a thing of the past. An open area is best to make employees feel less stressed and increase productivity. In an open workspace, your staff can freely move around without the fear of bumping into filing cabinets and desks. Besides, it allows more open and easy communication between workers.
2.2 Lightning and Color
Lighting is very important in an office environment. The lack of good lighting can affect your energy levels and productivity. Subsequently, having good lighting in your office space for rent in Dubai is a must. Finding a place with natural lightning could be a good solution as it is eco-friendly.
In the same way, a workspace with vibrant colors can enhance an environment. The use of vibrant colors can make a place seem larger than it is. Bringing colorful decorations to your workspace will add something special to it, allowing it to have more life and making it more conducive to productivity.
2.3 Cooling and Heating
Making sure that your office space has a comfortable climate is very important for your workforce. Commonly, offices are too hot or too cold, and this problem can disrupt your healthy workflow. Before renting a space, you need to check that you can change the temperature of the room as you please. Or, at least, add space heaters or fans to maintain a pleasant room temperature.
2.4 Dining Space
Having a dining space with the basic commodities can be convenient. As an employer, you need to ensure that this place has at least a microwave, refrigerator, and coffee maker. Additionally, you need to take care of having a good supply of coffee, water, tea, and other necessary products.
3. Components of an ideal office space
As a business owner, choosing the proper office space for rent in Dubai can be a difficult task. For this reason, having a rental agency by your side can support you through every step of leasing an office space. Knowing the components of ideal office space is important. In this way you will be aware of the details you have to pay attention to when choosing a workspace.
3.1 Ergonomic Furniture
Furniture is the main component that tenants offer when renting a space as it is essential for companies. Every desk and chair need to be comfortable enough for your staff. They need to be well-suited for everyone. A high-quality functional office chair will help your workforce maintain perfect posture while supporting their lower back.
3.2 Connectivity
Every modern space requires an internet connection and phone services. Without good connectivity, your team's productivity will be significantly lower. Tenants need to make sure that the whole office space has an adequate internet connection. As an employer, you need to ensure that your virtual office services are running smoothly too.
3.3 Amenities
Some offices for rent in Dubai also include couches, meeting rooms, break rooms, and more. These amenities allow employees to take breaks and socialize in other places through the office. It is critical to check that workspaces provide enough electrical outlets for your equipment. Avoiding the use of extension cords is critical for safety reasons.
3.4 Technology
Usually, office spaces offer the necessary technology for a company. Computers, laptops, printers, scanners, and more technological equipment come with the workspace. Along with these services, some tenants offer software security, cloud services, IT management, and PRO services to make your working experience more complete.
3.5 Cleaning Options
Office spaces often provide cleaning services for their leasers. Helping them maintain a clean work environment that allows them to work to their fullest. A cleaning team usually dusts, cleans air-conditioning filters, and ensures all the rooms in a workspace are spotless. In the end, these services are included in the final price stated on the contract.
3.6 Security
The security of your company's headquarters is very important. Choosing a safe zone in the region will bring you many benefits. Tenants often offer security services in the building where the office is located. Many offices for rent in Dubai frequently include parking for your workers. 
4. How can I find the perfect office for rent in Dubai?
Finding the right workspace can be an overwhelming process since there are too many options to select. Hiring the services of a rental agency will help you sort through all the possibilities and pick the perfect one. In today's modern world, many businesses operate from different places such as virtual offices, flexible desk spaces, co-working areas, and more.
4.1 Outline a plan with your necessities
When looking for an office for rent in Dubai you have to be sure of what are your requirements, budget, and expectations. You need to acknowledge the benefits and downsides of every shared space you see. Do not forget that the location of your office space is critical for the profitability of your business.
One of the goals of renting an office is getting value for your investment. Business owners have to ensure that the services and amenities they need are included in the contract. Therefore, having a team to review the leasing contract is very important. So they can be aware of any irregularity.
4.2 Enjoy the benefits of every step
Most times, starting small can be good for your business. Renting a shared space or a flexible desk is very advantageous. It will help you save money to invest it later in your company. As you develop, you can start thinking about expanding to a bigger office space.
Being able to find a space that can be utilized not only for business but also for after-hours business reunions can be beneficial. Having the area to host network events and provide educational opportunities can help you connect with the community. Consequently, establishing you as a serious company and helping you develop in many areas.
4.3 Focus on flexibility
When setting up your business and looking for an office space for rent in Dubai you need to focus on flexibility. Finding a place that provides flexible lease terms and flexible growth possibilities is imperative. Small companies should not restrict themselves to a long-term lease, as it may end up being very costly. That is why searching with the help of a professional is necessary. They will allow you to discover the perfect place to meet your requirements.
5. What should I question before selecting an office space for rent in Dubai?
Selecting an office for rent in Dubai can be stressful. If you do not have enough support you could feel lost during this demanding process. Hence, asking yourself questions before renting a space can be wise. It will provide you with insight to find your priorities and focus on the vital aspects of your company.
5.1 Is this office right for my business?
Before choosing a space you need to be sure that it will be the right move for your business. Having a space is a responsibility. If you are not ready to assume it could lead your company to fail. Renting an office in Dubai is very beneficial if you know how to take advantage of it.
5.2 Are the lease and rental rates secure?
Reviewing your leasing contract with a professional is key when you are looking for an office space for rent in Dubai. They will let you know if there is any inconvenience with the rental rate. A rental agent will help you compare many office spaces. So you can choose the one that adjusts to your budget.
5.3 Will it be beneficial to share an office?
Sharing an office space for rent in Dubai can save you money in office rent and other amenities. For example, if your company is involved with web design, you can share a space with other complementary businesses such as software developers and marketing professionals.
5.4 Can I sell my company during the tenancy?
Leases force the original company to be responsible in the future if the current tenant does not perform. So, if you are looking to sell your company, you need to ensure the lease informs about owner accountability. Then, the landlord will not recur to you for unpaid rent.
6. How can Connect Business Center help you?
With more than 20 years of experience, Connect Business Centers is the number one rental company in the region. We are here to help you find the right office space for rent in Dubai. Our company will help you deal with this process, making it as quick as possible.
We want to be the bridge between tenants and leasers. Our wide selection of properties will suffice any necessities you have. We are experts in searching, reviewing, and negotiating office spaces for rent and their respective contracts.
Moreover, if you want to start your office space rental business, we are here for you. Connect Business Centers takes care of publishing your property, advertising it, and finding the right tenants. While remaining compliant and dealing with any legal difficulty you may have.
With our support, you can take your office space for rent in Dubai to the next level. We will take care of any risk there might be with your rental business. Our mission is to give you the necessary tools to achieve your objectives. Ultimately, empowering investors and entrepreneurs is our main goal.
Are you looking for an office space for rent in Dubai? If you are searching for the perfect space to establish your business and run operations, you can contact us to learn more about our services. Call us at +97143316688, or you send us an email at info@connectbusinesscenters.com. Our agents will be pleased to answer your queries.  
If you are searching for a job opportunity in any area, you can submit your CV or resume at thetalentpoint.com. You can get in touch with us via email too at contact@thetalentpoint.com. With us, you will find the perfect possibilities to develop your skills.