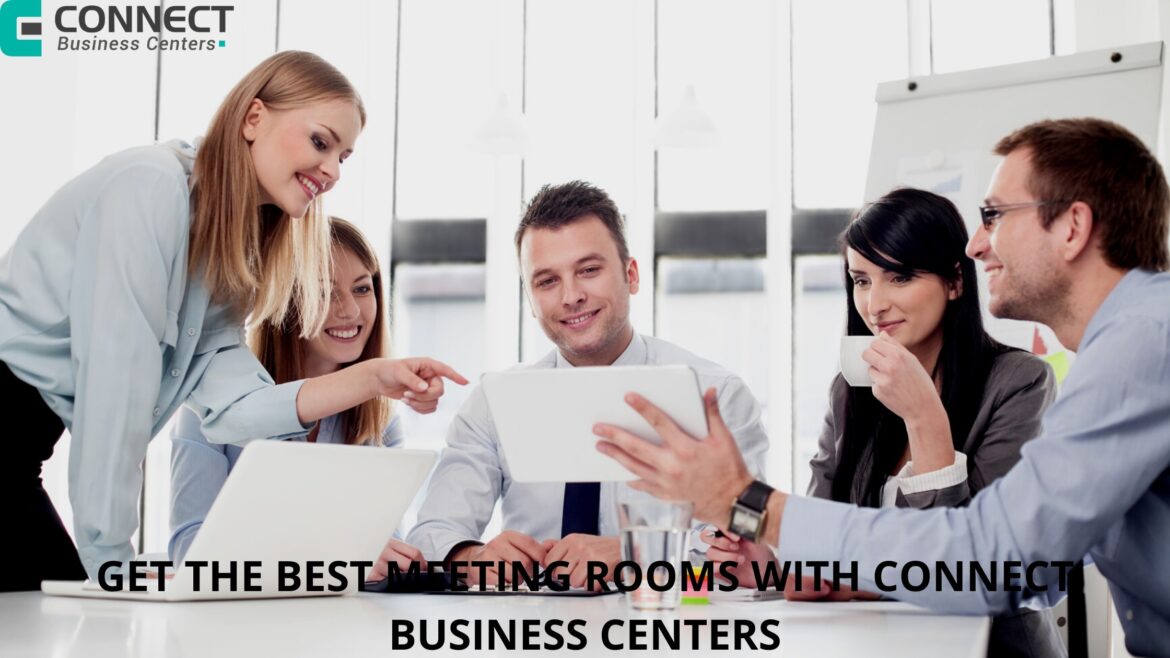 The offices of many companies are preparing to facilitate hybrid work, in which some employees will work remotely and others will share physical space in these places. In this redesign of the offices, the meeting rooms in Dubai will play an important role.
In this article, we will present to you the keys to getting the best meeting room in Dubai. Not only must they accommodate their space, but also their layout and, of course, their equipment, including technological equipment.
Video conferencing applications
Meeting rooms of different sizes according to needs
What is a collaborative meeting room?
Meeting rooms in Dubai for many attendees
Rental of meeting rooms in Dubai for small groups
Rental of the meeting room to accelerate creativity
How can we help you obtain more information about meeting rooms for rent in Dubai?
1. Video conferencing applications
Before the coronavirus pandemic, 60% of business meetings were held in person.
Therefore, the meeting rooms in Dubai must have, first of all, solutions that allow videoconferences. Indeed, there are many options on the market. But, it will be increasingly essential that the chosen application is compatible with a large number of increasingly diverse devices.
In addition, these video conferencing applications must not only be able to show audio and video of the participants, but the people gathered can also use this application to share content live and direct, thus promoting collaboration among all.
Ideally, the room should be prepared to host a meeting held with an application other than the one used internally. Not all companies choose the same corporate solution, so for meetings with suppliers and partners, the room must have different clients enabled to attend all these meetings.
1.1.  Video conferencing hardware
In addition to the tool that allows you to make these video calls, the room must have specific video conferencing equipment.
This meeting room hardware is available for all popular video conferencing platforms. In fact, we can find some that are specifically designed for all of the options.
Some of the offerings include touchscreen and camera/audio combinations to turn any meeting room in Dubai into an easy-to-use video conferencing suite.
The goal of all of these is to enable a streamlined hybrid meeting experience so that workplace collaboration is simple and inclusive, no matter where attendees are calling or staying.
1.2. Audio input and output
The sound of the meetings must be clear and crisp. Although most of the applications have been introducing improvements to eliminate, for example, ambient noise that can be annoying, dedicated microphones or speakers can help improve the experience.
Also, in a hybrid meeting, the keynote speaker can go from being physically in the room to being one of the participants who join via video. Therefore, for a hybrid meeting to be successful for all participants, it must have microphones that can pick up sound from anywhere in the meeting room.
Depending on the size and shape of the space, a microphone can be placed on the ceiling so that it captures all the sound. You can also choose to place multiple microphones on the table. In any case, it is advisable to choose a product that is suitable for the space and that is capable of distinguishing the background noise of people speaking.
Additionally, collaborations can range from a quiet conversation with one person to brainstorming as a team, or a video conference with colleagues from around the world. In most offices in Dubai, these activities take place in meeting rooms. However, the best collaboration spaces are much more than a few chairs around a table between four walls.
2. Meeting rooms of different sizes according to needs
Since teams conduct a variety of activities in meeting rooms, from group brainstorming to one-on-one meetings, the ideal space for one type of activity will not necessarily be suitable for another type. However, by offering various sizes of rooms, with different equipment, you will be able to satisfy all kinds of possibilities.
Some meetings will be with employees from various departments and levels. For these, it is necessary to have a large room.
For conferences or presentations, the ideal is to have a space with a classroom layout.
3. What is a collaborative meeting room?
A functional meeting room for rent in Dubai should be equipped with tools that facilitate collaboration. These can be low-tech, like markers and a whiteboard, or high-tech, like in-room video conferencing software or room booking tools.
The meeting room can be small, medium (classic meeting room, training room), or large (boardroom, control, and monitoring room), but it is clearly different from collaborative spaces: The equipment, layout, and furnishings focus on the presenter in a traditional meeting room and on the participants in collaborative spaces.
Collaborative spaces are characterized by:
Collaborative tools to share content that adapt to each one's device
An intuitive video conferencing solution, BYOD (bring your own device) allows co-editing
Strong WIFI and a network that has enough bandwidth to use content-sharing and video conferencing tools
A space adapted to oral exchange and multimedia
3.1.  THE COMPACT MEETING ROOMS
Our compact meeting rooms for rent in Dubai facilitate teamwork from 3 to 10 people in the room depending on the layout, and up to 25 rooms remotely via video conferencing.
There are several built-in options available to equip your compact meeting room:
Multimedia (screens and sound).
Sharing content and co-editing.
Connectivity.
Videoconference packs.
The advantages of Connect Business Centers' compact meeting room:
Full multimedia and video conferencing integration
Ergonomic shape: Participants feel comfortable, each one can see the other's screen, the feet of the tables are placed in places where they do not bother, and the camera in the middle of the screens facilitates visual contact with offices in other locations
Lockable storage locker
3.2. COLLABORATIVE SPACES
Your meeting rooms and collaborative spaces need to adapt to different situations and audiences.
The equipment of the meeting room in Dubai must be adjusted to the function you want to give it: meetings with few people, conferences with more attendees, conversations inside and outside the meeting room, formal or informal meetings
3.3. TRAINING ROOM
Today companies need to have a multipurpose training room. Indeed, having well-equipped training rooms is a key factor for the success of the company.
We take great care with the ergonomics of technology and space: Training can only work well if it has simple and intuitive technology (tactical screen, video projection, content sharing), in addition, the space must facilitate the transit of the trainer and the participants and the use of devices: screens at eye level, good acoustics, and comfortable chairs.
3.4. BOARDROOM
Collaboration technologies have to be high-end and at the same time very reliable: A management or administration meeting cannot be interrupted or started half an hour late due to technical problems or because you do not know how to use the tools.
The technology has to be integrated in a harmonious way and must not be seen until it is used.
Connect Business Centers offers you four types of services for the meeting rooms for rent in Dubai:
Furniture: Tables (traditional and also contemporary materials), chairs or furniture for video projection, desks, and coffee corners.
The layout of the boardroom: Wall and ceiling cladding, lighting.
The technology: Videoconferencing, content sharing, meeting room optimization (room reservation, locked storage of utensils, lighting, and technology management).
Multimedia and network integration directly on the table and furniture: Connectivity, audiovisuals, Wi-Fi, and also your own electronic equipment.
3.5. CREATIVE ROOMS
The creative room is a decisive element when it comes to creating spaces for innovation within companies.
The creative room focuses on teamwork and makes it easy for your teams to generate innovative ideas during brainstorming sessions in a space that does not resemble a traditional meeting room: Flexible furniture, unconventional layout, creative colors, and technology next-generation collaboration.
3.6. SHOWROOM
Your showroom gives the first impression of your products and their quality.
It is important to associate the identity and values ​​of your company with this first impression, through the distribution of furniture and the technology of your showroom.
Also, our agency offers you to transform your showroom into a communication space: dynamic visual information, adaptable decoration, interactive screens
We suggest the technological solutions best suited to your needs so that e-commerce and the sales space complement each other in the best way
The new workspaces seek to increase the productivity of companies and are for people who already work with new formats. Also, they are completely digital and eager to solve tasks through collaboration between users of the same company. Gone are the years of individual work and hermetic spaces.
To develop these business objectives there are multiple meeting rooms, with different purposes and sizes within the offices, only each company must define the types that best suit their future needs and the exact number.
4. Meeting rooms in Dubai for many attendees
They are useful for large convention-type meetings (for an average of 100 people in total), or Board-type meetings (for an average of 15 people in total). The frequency of use of this type of room is low, but the duration, when it is active, is 100 minutes, on average.
Its adaptation must respect the seriousness of the whole, uniting it with the necessary technology to make it practical.
5. Rental of meeting rooms in Dubai for small groups
These rooms are aimed more at meetings such as Training Cycles in companies (for an average of 20 people in total), or for Team meetings (for an average of 6 people in total). They can also be used in Product Presentation meetings or to receive visits (for an average of 5 people in total). They usually have a weekly frequency, but the duration is 60 minutes, on average.
These rooms must be very comfortable, practical, and flexible, to allow for very different uses, and must, in turn, be attractive and pleasant, being able to take advantage of it to create a brand and create a greater feeling of belonging among the workers with the company.
6. Rental of a meeting room to accelerate creativity
Very practical in brainstorming meetings (for an average of 5 people in total). They also have a weekly frequency, but the average time of use is 240 minutes.
Its adaptation is expected to basically generate comfort in its use to favor the flow of ideas.
Additionally, it is worth mentioning that for things to get done, the basic is collaboration at work. Meeting with colleagues, sharing insights, brainstorming, building consensus, and aligning to execute on strategy is critical to growing your business.
Also, since teamwork is vital and can present various methods, meeting rooms in Dubai must offer diversity and inspire employees to do their best work. Having flexible workspaces where employees have the freedom to work according to their needs and comfort level is essential to maintaining a high level of productivity, as well as attracting and retaining talented people.
7. How can we help you obtain more information about meeting rooms for rent in Dubai?
Connect Business Centers is the region's leading leasing firm, with over 20 years of experience. We can assist you in locating the ideal meeting room in Dubai. Our firm will help you to complete this process as quickly as feasible.
We wish to serve as a link between tenants and landlords. Our diverse variety of properties will meet all of your requirements. We are professionals at finding, evaluating, and negotiating office space for rent in Dubai and the contracts that go with it.
In addition, at Connect Business Centers, we will help with every step of enterprise formation in the UAE or business system in Mainland Dubai & across the UAE. Our service capacities include PRO services that will help your company raise to success.
You may take your meeting room for rent in Dubai to the next level with our help. We will take care of any potential risks in your business. Our goal is to provide you with the tools you need to achieve your goals. Our ultimate goal is to empower investors and businesses.

Are you looking for a place to office for rent in Dubai? You can contact us to learn more about our services if you are looking for the ideal location to start your business and manage operations. You can reach us by phone at +97143316688, or by email at contact@connectbusinesscenters.com. Our representatives will gladly respond to your questions.