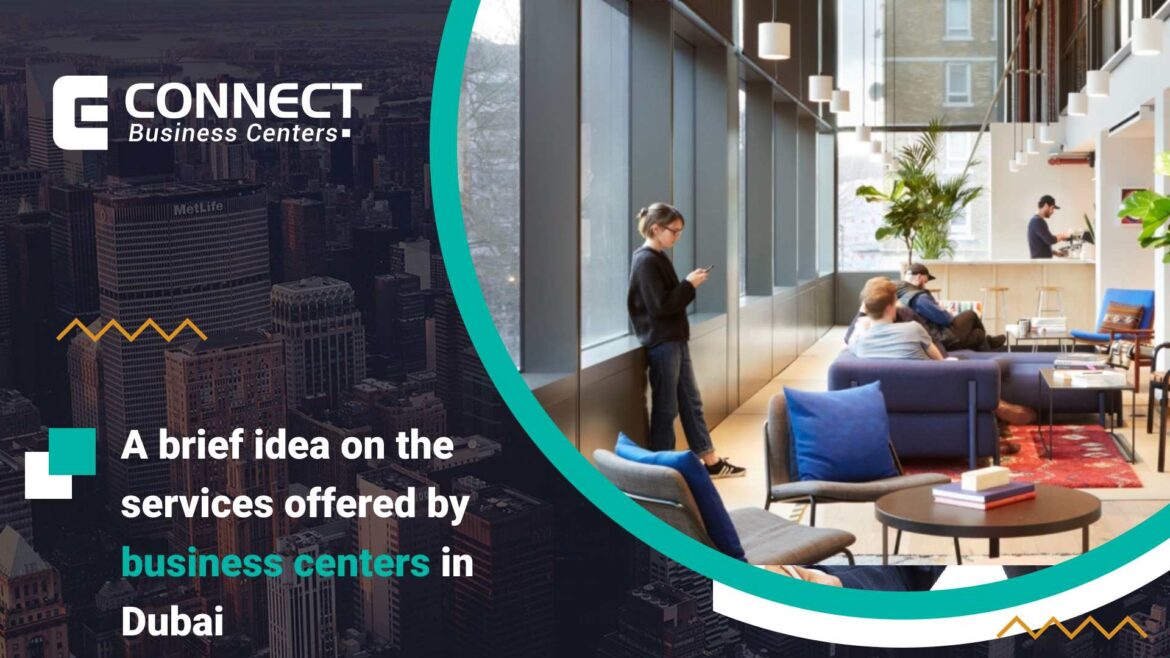 New times need fresh approaches to entrepreneurial leadership. It is also the story built around business centers in Dubai. This industry is aimed to assist in part of the administration of new firms seeking to raise productivity and enhance asset efficiency. It has been living a continued boom for many years.
In this article, we will discuss the services and benefits related to the business centers in Dubai. There are several advantages to partnering with a business center in Dubai. They are companies that provide excellent workspaces while also helping build links with relevant commercial and governmental agencies. It is about structures that save money on admin costs while also assisting your firm in fulfilling broad tactics on talent staffing, developing markets, and remote working.
How did the idea of business centers emerge?
Businesses and business centers in Dubai
How does a business center function?
How to select a business center in Dubai?
Connect Business Centers assists you in finding the best business center
1. How Did the Idea of Business Centers Emerge?
In its early stages, the only business center benefit was to get a little work done. It is still the case in small flat complexes or hotels not dedicated to business people. Its services usually reduce to a passing provision of space, along with access to photocopiers, scanners, and computers.
However, the concept of business centers and their benefits are very much changed today. It is now about large firms committed to back up new investors to set up their businesses even from zero. To achieve these purposes, they support various lines of action: the provision of general support, help in procedures before government entities, and the offer of spaces for all sorts of firms.
Although everything said is aimed mainly at new businesses, there are also services available for old companies that wish to expand their territories or exploit remote working.
An updated and complete list of business centers in Dubai is available on Connect Business Centers.
2. Businesses and Business Centers in Dubai
Starting a business in the UAE is a booming activity for several years now. The fiscal policies and facilities for investors applied in that country have rapt entrepreneurs whose needs and money have made the industry of business centers and their benefits one of the most attractive.
Founding a venture in all of the Emirates is thought to be simple and trouble-free. However, the most popular investment location in these lands is none other than Dubai. This is due to its more open cultural setting and more complex economy.
Business centers help organizations in Dubai enabling stylish and all-inclusive headquarters from which to do business. Likewise, the emirate's strategic position and distinct time zone attract many traders.
2.1 Investing in a business center in Dubai
In Dubai, the business centers benefit from a fecund ambiance for firms of all kinds. Anyone who wants to expand their options can discover the right answer.
When hiring an office space, the business center benefits contain ways for establishing new ventures and answers for those with flexible rental requests. They provide a wide array of services, including virtual offices, private spots, and conference spaces. Their office buildings are supplied and include a variety of community comforts.
One significant advantage of using a business center is avoiding unwanted additional costs. Choosing a flexible option means evading the upfront expenses linked with standard office leasing.
Secretarial costs remove due to reception services that assist clients with day-to-day shaping activities. You have to pay for what you use, and you do not have to commit to anything longer than needed. It provides you with an amount of flexibility.
2.2 Benefits offered by a business center in Dubai
Start-ups and global firms looking to establish a presence in Dubai might benefit from the ease of a business center. The workplaces are ready for use, with cutting-edge technology, and a proper company address.
Let us look at other essential gains:
No space restrictions. When needed, a welcome area, pantry, and conference and meeting rooms are vacant. These services are often bundled together, allowing you to use them at a cheap rate.
Start-up funding. Business owners are not required to purchase pieces of stuff. They can also save you money on gear, fitting fees, safety deposits, and other beginning charges.
No ongoing costs. The benefits of business centers comprise that they do not need additional monthly expenses. Communications providers, utility bills, repairs, and maintenance are all included or all under an on-demand regime.
A support group. A skilled support team is available at a business center as a benefit. To manage calls and messages, you have a personal clerk service.
Access to the internet. This can be critical in your field of work. With a business center, you may plug in and gain fast access to the internet. You are not required to pay for connection or upkeep.
You will save time. Because their office will manage all of the details of operating the workplace, you will be able to focus on the heart of your firm.
Taking all of this into account, the advantages of a business center surpass those of traditional offices. It reduces the bores of managing and maintaining a workplace. It also improves your clients' image.
3. How Does a Business Center Function?
A business center in Dubai is not only a commercial firm that assists in the establishment of ventures from the ground up. Also, they offer complex PRO services to people involved in those procedures, most notably support in dealings with local and international regulatory bodies. Equally, the business centers for rent assist firms in routine functions while they are focused on productivity.
But certainly, a business center has its essential strength in providing fully furnished office spaces. As a result, these facilities are right for both existing initiatives that are expanding and new businesses that require a suitable site for their first stages.
Moreover, those spaces can include design features that convert them into alternative products, like virtual offices, conference rooms, coworking spaces, or serviced offices.
3.1 Business centers as global office providers
Business centers are often located near financial hubs, downtown business zones, and leisure spaces. Of course, they want to be as visible and connected to local and worldwide markets as possible.
Alternatively, several serviced office providers have branches in key cities across the world. As a result, their clients may plan global growth from a single business center.
Typically, business centers do not sell premises but rather rent them out, with customized services tailored to the customer.
3.2 Options available to their consumers
In any case, renters have a variety of options to choose from, such as office space, decor, administrative aid, workstations, and some personnel.
Effectively, services and facilities may include the following:
Modern workspaces
Ergonomic fittings
High-reliability communications
Business equipment
High-speed Internet access
Catering, drinks, and cleaning services
Both traditional and electronic mail
Additionally, a business center benefit in Dubai is the fact that it can offer expert advice for business owners looking to take the next step in strategic issues:
Formation of abroad business structures
Suitable financial services
Worldwide tax preparation
Holding of investments
Global commerce
These centers have a thorough grasp of local business and guiding rules, and they act as a team with overseas business formation experts to help the global aims.
In Dubai, a great business center must have a qualified workforce with linguistic and intercultural talents to develop cross-border professional contacts.
3.3 Some polite principles while hiring a business facility in Dubai
Business centers are comprised be a place where to share several services under one roof. When relating with workers from other companies, there are also some things to recall and talk about it. If there are shared walls, corridors, and offices in the same building, balances are necessary.
3.3.1 Ensure a healthy and well-organized workplace.
Nobody will punish you for cleanliness and order issues, but it is your job to keep your workplace tidy. Visitors, guests, and customers could enter the office premises at any time of day.
So, employees are responsible for sustaining the workplace clean and welcoming at all times. Each employee of every organization functioning in a Dubai business center ought to be accountable for the possibilities of cleaning around them.
3.3.2 Refrain from generating needless sounds.
Keep in mind that your neighbors are still working when you are taking a break. As a result, if you book a business center in Dubai, be sure that all of your meetings take place in rooms where you will not disturb anybody else. Equally, avoid chatting in the aisles since it may irritate other employees.
3.3.3 Do not interfere with the meeting room bookings.
Meeting rooms are great for issuing information, carrying out presentations, sharing ideas, and raising teamwork. In Dubai, conference rooms are accessible on a first, first-served basis.
If one company books all of the rooms, each other firm will have to wait. Then, if a company is leading a session in a venue, they must leave the place on time since another team could be waiting their turn.
While contemplating going to the right business center in Dubai, firms must ensure that their workers receive all relevant orders.
Your most complete list of business centers in Dubai is available at Connect Business Centers.
4. How to Select a Business Center in Dubai
Having arrived here, the topic of how to find a good business center in Dubai arises. There are two different valuations to do: the offered services themselves and the overall behavior and philosophy of the business center.
4.1 The service features you need to certify
First of all, as was said above, business center benefits must stand out with fully equipped offices, reception service, and conference rooms that are all available on-demand.
However, there are many other factors to consider while deciding on the best option:
Location: The best business centers in Dubai are in the most respected and dynamic districts. It is a relevant selection since the site must give comfort to team members and a better business image.
Workplaces and executive offices: Impeccable, well-equipped, and with the possibility to customize. As a result, they will be ideal for productive teams.
Technology: A suitable business center for rent in Dubai should include high-speed wireless internet, conference rooms with recording devices, and copying and printing services.
Human Resources: A good business center in Dubai must have well-trained staff, quick maintenance, cleaning personnel, and a technical support team.
Social halls: Of course, these facilities should be scalable, which means they should always be able to house a small gathering or a populated training session without losing comfort.
4.2 How to assess in-depth the business center benefits?
While valuing the business center benefits as providers, you must consider the following factors:
They must be able to provide PRO services other than renting a space, such as:
Managing all administrative, technical, and financial elements of forming a company in the UAE
Handle employee visas and labor cards
Assist the authorities in Dubai as requested
Second, their company concept should be similar to:
Provide a solid platform that combines corporate environments full of fellowship and creativity with the best technical support and connection
Design concepts that challenge the paradigm of typical office space by including flexible and coworking
Provide an all-inclusive service package that includes operational, secretarial, and onboard computer assistance.
Recognize the wants of their clients.
Commit to completing work on time.
5. Connect Business Centers Assists You in finding the Best business center
Connect Business Centers, our leading organization in Dubai, can join forces with you to assess and boost your ideas. We believe in building hard, lengthy business ties through a personal, one-on-one strategy, so you know we have your objectives in mind from the very first phone call or appointment.
Effectively, we assist international firms in starting in Dubai. Moreover, we can find your best office spot in the Emirates using our business center database, an updated and complete list of the business centers in Dubai.