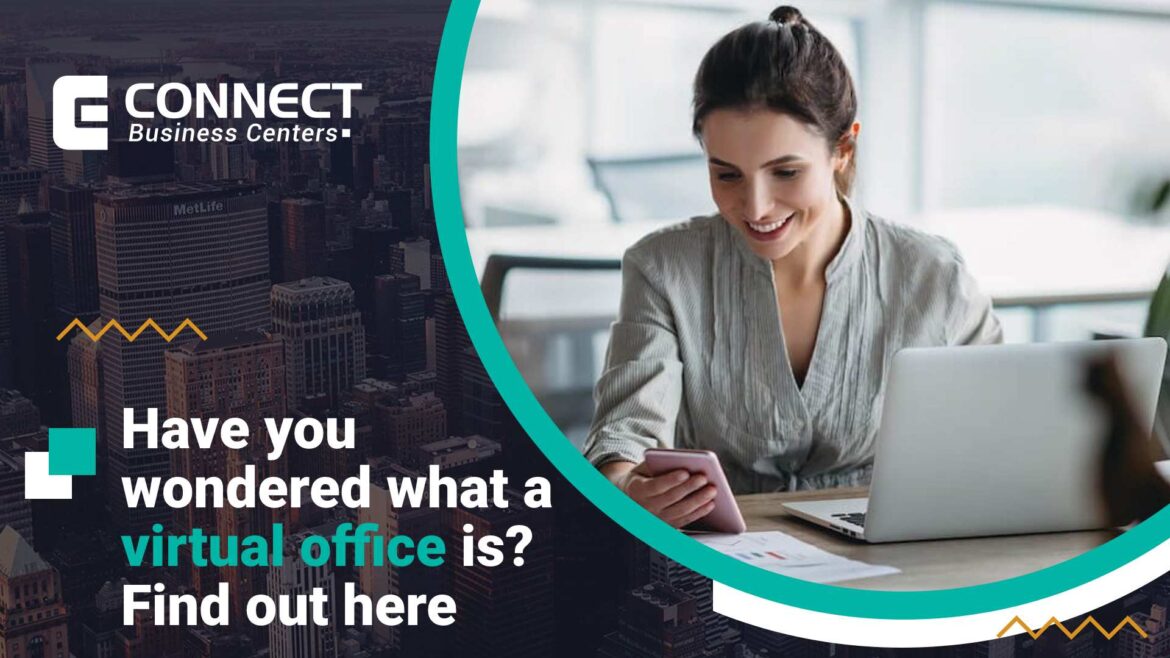 More and more business owners are asking themselves: what is a virtual office setup and how can it benefit my business? Advances in technology are helping to make life easier around the world and businesses are no exception. Business owners and industry leaders are turning to the digital world to increase profits and more easily run companies.
In this article, we will explain why they are improving work-life balance. It is easy to do with a simple service: the virtual office setup. Before 2020, the concept of running a business remotely had already become popular. In 2020, managing your business remotely became a necessity and a norm.
What is a virtual office set up and what are its benefits?
How to set up a virtual office?
What are virtual mailbox services?
Is a virtual office setup necessary?
What are the benefits of virtual offices?
What does a virtual office consist of?
Characteristics of a virtual office
How can Connect Business Centers Help you?
1. What is a Virtual Office Setup and What are its Benefits?
A virtual office setup is a comprehensive package of online business solutions that allows you to easily work from anywhere in the world without sacrificing the benefits of a physical office. In the simplest of terms, it provides you with a digital platform from which you can conduct operations remotely.
Today, it would be difficult to find an employer who is not aware of the lasting impact of this on digitized and flexible practices. In fact, more and more companies are choosing to run their business virtually. But have you ever wondered how to set up a virtual office? They do so with a carefully chosen virtual office package that allows them to work from anywhere in the world.
This is the key benefit of a virtual office setup: customize it to your needs. Virtual office packages come in a variety of sizes and features, so you only pay for the services you need. The most important feature of a virtual office is a professional business address that gives your business a physical office address without the high rental costs.
A virtual office can include a variety of features that maximize your efficiency and increase the credibility of your business. For this reason, the demand for this type of office is constantly increasing. Depending on its provider, a virtual office may also provide features such as virtual mailbox services, phone numbers, live receptionists or answering machines, access to meeting spaces, and much more.
2. How to Set up a Virtual Office?
One of the most important problems remote industries face is the absence of a physical business address. This presents several problems for a successful business, from mail hazards to licensing requirements. A post office box has been the go-to solution for years, but setting up a virtual office offers more benefits than a post office box.
Virtual offices have a better option by giving your business an actual, physical corporate address in a place of your choice. Not only do you have a real mailing address, but you can also use this address to register your business and open a business bank account.
All virtual offices give your business a prestigious physical address to surprise your customers, but they are not just imaginary cyberspace with a false address. It is a real physical office location that you can visit anytime. You can schedule meetings with potential clients at your listed location, and you can proudly display your company logo in the office.
3. What are Virtual Mailbox Services?
A virtual mailbox is a mail service that allows you to manage your mail on your own terms. Some companies provide a physical postal address to receive your mail and an online platform where you can access it in real time.
When your business receives mail in your virtual mailbox, the mail item is entered into an online system with the sender and type of mail; now you will always know what the article is and whose it is, and if it is worth your time. But it is not just a preview. In the online application, you can also request an envelope image, mark it as spam, scan mail, or forward mail.
With a virtual office plan, you will receive a local phone number to distribute to your clients. Also, this package comes with a live virtual receptionist to handle all your incoming calls.
During business hours, your professional and friendly receptionist will answer your call with a personalized greeting. Once they have attended your customer with your customer service, they can transfer that call directly to you or give you a courtesy call to let you know who is calling and why.
4. Is a Virtual Office Setup Necessary?
Whether you are a small business owner, an ambitious startup engineer, or looking to expand your company, setting up a virtual office is a great option. It offers flexibility and authority to your company. Some of the main benefits and reasons to use a virtual office are:
Remote work. A virtual office setup is the easiest and most effective way to do it.
Reduce costs by maintaining a professional business personality. Setting up a virtual office can save you thousands of overhead costs while presenting a legitimate image to your clients.
Expand your business to a great location. A virtual office can put you in the heart of the best cities for business and on the path of the best future clients.
Grow and develop your business into a worldwide sensation while working from the comfort of your house. A virtual office can help you get your business on the road guilt-free and worry-free.
Staying ahead in business means staying on top of trends and tools to help you succeed. A virtual office setup will reduce your overhead and make your work life easier, more efficient, and more flexible. Leaving behind the effort of reserving office space, your office costs mean you have more time to focus on the aspects of your business that really matter.
It is undeniable that technologies are already part of our daily lives. In this sense, new business models oriented to the digital world appear. For this reason, it is important to know the advantages of virtual offices. A concept that is in full development and that will give a lot to talk about.
5. What are the Benefits of Virtual Offices?
Setting up a virtual office will bring you numerous advantages compared to a traditional office:
Improves the business image, having a space with direct debit is more reliable for customers.
It offers the facility of basic equipment and services, thus avoiding unnecessary expenses and allowing these savings to be invested in the execution of a project.
Working in a virtual environment helps boost activities such as networking.
One of the great benefits of a virtual office is that they have a privileged location from a commercial point of view.
Have a suitable place for meetings or customer service. These spaces can be rented according to the time needed, hours, days, or weeks.
Available 24 hours a day, giving you the opportunity to open and close your business at the most convenient time.
It allows to increase productivity and reduce stress since it is not necessary to move to a physical place.
When companies require flexible work schedules, virtual offices create an opportunity for people to work wherever they are. Not only do virtual offices allow for no travel time, but low to no technology costs and lower indirect costs (without paying rent), remote workers also reduce travel time, increase efficiency and produce an inferior turnover percentage.
The world changes very fast and every day not only new technologies appear, but also new ways of working that did not exist before. For example, the virtual office, which is a service that is now on the rise, and that many co-working spaces and business centers offer their clients at a very affordable price.
6. What Does a Virtual Office Consist of?
Virtual offices allow home-based businesses, small businesses, or budding entrepreneurs to make a good impression of their business for an affordable monthly cost. This is by getting a reputable business address, a unique phone number, and management of your emails and calls.
Having a prestigious business address is a great benefit offered by a virtual office. One of these business addresses can do wonders for your company's professional image; also if it is used for meetings with clients and investors.
Virtual services have no borders and can be very useful for companies that want to expand into new markets and countries. It is a good way to project your presence before physically establishing yourself in another region. The use of the virtual office also helps to take your company from another country.
The benefits of renting a virtual office are obvious, but before doing so you have to think carefully about the needs of your company. Do you only want to domicile the business or do you think it is better to contract more services, such as, for example, the use of workspaces, correspondence and parcel management, and/or secretarial services?
Of course, it is very important to choose well the business center where you will rent a virtual office in Dubai. Because the image and prospects of your company may depend on the quality of this site. For this, you
7. Characteristics of a Virtual Office
A virtual office is not called that way because it refers to the digital field. It meets the characteristics of an office as such, even without being the physical space typically called under this concept.
Hence, among its characteristics, elements related to any office stand out:
Reception.
Fixed business address.
Eventual accessibility to the use of spaces such as meeting rooms or rooms for corporate events by the hour.
Exclusive landline for your company.
Customer service. Availability of physical structure if necessary.
However, some of these characteristics are combined with particularities that give certain benefits over other types of offices. We can offer you more insight into this trend of offices in the UAE.
8. How can Connect Business Centers help you?
Virtual office setup is definitely the future. Many companies are familiar with the new online modality. Setting up a virtual office is cheaper and more useful. Moreover, you can hire workers from anywhere without spending time or money on their relocation. Likewise, Dubai is a good city with many chances for businesspersons and investors.
In case you are considering expanding your business all over the world, you should have a virtual office. And since we are a company with more than 20 years of experience, we can definitely help you.
The purpose of Connect Business Centers is to connect you with one of our best business centers in the UAE. Hence, you can get your perfect area for work. We can help you with how to create a virtual office.
Also, we can get you an office space for rent where you can install your equipment and start your commerce. On the other hand, if you have a property to rent out, you can submit it and we will help you through the process.