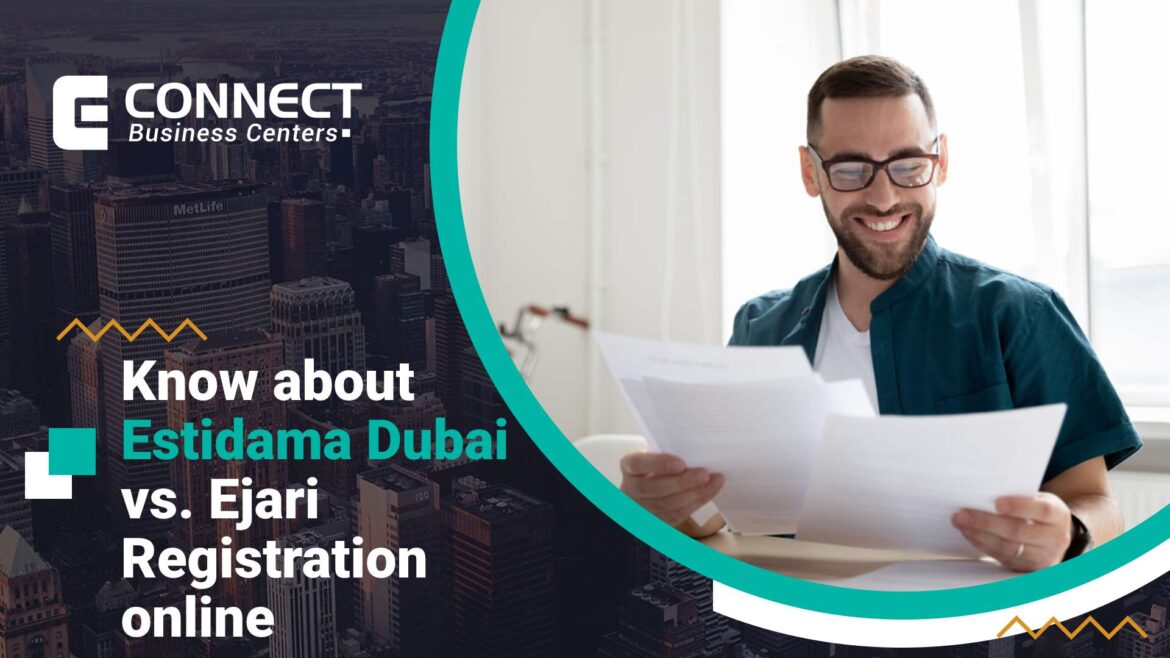 The leadership of Dubai in attracting foreign funding and new businesses is not easy to sustain. Because of that, they are constantly innovating by applying policies and incentives for new ventures. Estidama Dubai is part of that continuous evolution. Not long ago, the Department of Economic Development (DED) required all firms in Dubai mainland to rent a physical office space. However, now DED has permitted companies to use Estidama a virtual lease option, to set up licenses without a physical space.
In this article, we will look at what is an Estidama Dubai contract. We will address how it works and compare it to the Ejari contract. We will handle the following issues:
What is an Estidama Dubai contract and what plus does it have over Ejari?

Details about Estidama in Dubai

Benefits of the contracts Estidama Dubai

How does Estidama allow obtaining a DED license in Dubai?

Usual Estidama Dubai packages

How can Connect Business Centers help you with an Estidama license in Dubai?
1. What is an Estidama Dubai contract and what plus does it have over Ejari?
First of all, it is valid to note that an Estidama Certificate is a procedure related to sustainable practices in the building industry. So, it is not related to rental Estidama contracts, the issue we are analyzing. The Arabic word for 'sustainability' is Estidama. The government launched the Estidama Dubai contracts program to make Dubai more viable. Of course, a good way they can do so is by lowering the costs for new ventures looking to establish themselves in the Emirate. 
However, the Dubai DED obliges all firms to have office space. But many firms do not require a fixed physical space to operate. When they are forced to get office space for trade licenses, it is a waste of space and resources.
With Estidama, now a virtual office fulfills the requirements, and it can use to apply for a trade license (known as an Estidama license in Dubai). This program impacts Dubai's progress because virtual offices are clearly less costly than traditional office spaces. This situation benefits both the firms and Dubai as a whole.
1.1 Estidama as a virtual office
As said before, DED required all firms at least to rent one physical office. With Estidama Dubai contracts, businesses no longer need physical office space when they begin their journey.
Estidama Dubai enables businesses with fewer than 50 employees to rent virtual offices knowingly less costly than traditional office spaces.  This is helpful to firms and aligns with the state's goals. Businesses save money by not having to commute to work daily and not paying for a full physical office. Equally, the space is for firms that do require a physical base of operations. Also, their prices are lower because the demand is lesser too.
1.2 Estidama as a contract
Indeed, the Estidama contract, also known as the Sustainability contract, is essentially a virtual office. But you will also receive a full lease allowing you to obtain your Trade License. This deal also allows you to obtain up to four employment visas/labor quotas for this space.
This is consistent with Dubai's overall goal of attracting more investors while lowering the costs of setting up in the UAE. The Estidama License in Dubai (more exactly a "DED license with Estidama") is the right choice for those who want to test the market at an affordable.  Estidama is issued by the Dubai Land Department and is also known as an Estidama Ejari. But, what is Estidama in a nutshell?
A contract for allowing small businesses to rent virtual offices.

A certificate for applying for a trade license without requiring physical office space.

The option of obtaining four labor visas, a bank account, and a TRN number.

It is a chance offered only in Dubai (Estidama exists in all of the UAE, but each Emirate has its own version).
1.3 What is the distinction between an Ejari and an Estidama office?
Ejari is a web-based rental and leasing registration system that was introduced in the UAE to establish a strong regulatory system for the rental market. It obliges registering (online or in-person) any rental contract of physical offices and is mandatory for handling licenses on the mainland.
Estidama, on the other hand, is a program designed to make the UAE more sustainable in its rapid economic growth. It allows small business owners to register for a business trade Estidama license in Dubai without renting a physical office space.
1.4 What is the better option: Estidama contract or Ejari registration?
You must know that there is no conflict between both procedures.
As said above, Ejari is a web-based rental registration system. All of the components of renting physical office space are brought to the internet by the Ejari Certificate. The Ejari tenancy contract is converted to a standard format and the government can access all the deals in the Ejari information system.
On the other hand, Estidama is to make Dubai's growth more sustainable. As a result, they are eliminating procedures and costs. The Estidama contract allows small firms to rent virtual offices, which are clearly less expensive and take up less office space. Being Estidama Dubai core a virtual office contract, this includes a lease deal, actually the legal requirement for obtaining a trade license in the UAE. Therefore, Estidama allows complying with the duties for obtaining a license without an Ejari.
However, because Ejari is a government requirement, the possible conflict has been solved by accepting Estidama contracts similar to Ejari to ask for licenses. This process and use are also called Estidama Ejari or Estidama License in Dubai.
2. Details about Estidama in Dubai
To attract investors, the DED is issuing Licenses without office space. So, instead of getting a stable office space, you can get an Estidama Dubai Contract, which is similar to a virtual office. Also, you receive a Lease Agreement for the company, which allows you to obtain up to four work visas.
This move comes just when business owners and entrepreneurs look to cut costs. This applies to both new and existing firms looking to reduce their lease costs.
A synopsis of the Estidama License in Dubai:
This is only in Dubai – Abu Dhabi uses the Tajer Licensing model.

It is not necessary to rent a physical office space.

The Estidama is issued by the Dubai Land Department and is known as an Estidama Ejari.

This only gives you a virtual address.

For an additional fee, most providers allow you to rent a dedicated desk.

Business centers

can provide

Estidama Dubai

with either a virtual or physical office.

You can renew the license indefinitely using Estidama, but some restrictions apply.

Visas are regularly limited to four. In contrast to a full Ejari, where the quota is unlimited.

Obtainable TRN number

Possible bank account

Possibility of DU/Etisalat

This option is not available for businesses that require special approvals.
3. Benefits of the contracts Estidama Dubai
Here are some of the advantages of a contract via Estidama Dubai.
3.1 There is No Need for a Physical Office Space.
Physical office space is costly. They are untenable for many small firms that could better use the capital. Many small firms do not require a physical office space from which to operate. Most IT startups can operate very well from home.  Certainly, regularly traveling to the physical office space can be a waste of time and money. An Estidama contract allows these firms to work remotely while still obtaining a trade Estidama license from Dubai's DED.
3.2 Ejari's Replacement
To obtain a trade license in the UAE, you must first obtain an Ejari. To obtain an Ejari, you must first rent a physical location. The Estidama issued by the Dubai Land Department, on the other hand, will function as an Estidama Ejari. That means you can apply for a trade license in Dubai using the Estidama Ejari contract. 
The business center where you get the Estidama Ejari contract will provide you with a business address. You can use that address for business purposes even if you will not be working from it. When filling out official forms for your business, for example, you can use that Estidama address as your business address.
3.3 Visas for Workers
With Ejari you may sponsor a certain number of visas for foreign workers depending on the size of the office you lease or rent. Of course, the more office space you have, the more visas you can sponsor. 
But, even if you meet your office needs with an Estidama lease contract (a no-size virtual office), you may still need to hire staff abroad. So, even if you do not have a physical location, an Estidama allows you to sponsor up to four work visas or labor quotas.
3.4 Comforts
Depending on the business center from which you obtain the Estidama Dubai, you will receive office comforts. Many business centers offer a front desk for your virtual office, while others let you rent a private desk. 
Some virtual offices also provide physical office space for a limited number of hours per month. They also have meeting rooms available if you need to meet with a client or a potential business partner. Moreover, Estidama Dubai can access the TRN number. You can open bank accounts using the virtual office's address. With Estidama, you can also get DU or Etisalat.
4. How does Estidama allow obtaining a DED license in Dubai?
The Estidama contract enables your firm to rent a virtual office space. When applying for a business trade license from the DED in Dubai, this virtual office will count as a regular office space.
The following are the steps to obtaining a Dubai trade license with an Estidama:
Determine the legal structure of your company.

Choose a trade license.

Apply to the DED for initial approval.

Apply for the Estidama contract.

Rent a virtual office from a business center.

Obtain external approvals.

Submit the necessary documents to the DED.

Obtain the trade license.
Forming a company with an Estidama is similar to the process without one. The only difference is that you will have a virtual office space instead of a physical one.
5. Usual Estidama Dubai packages
What is an Estidama Dubai Sustainable License? Estidama is considered a License for Sustainability. Only in Dubai Ejari is no need to rent a regular office space if you have your Estidama virtual office. As a result, with Estidama there is no Ejari per se. There are, actually, Estidama Dubai contracts featured with:
A virtual address

A separate physical desk (for an extra fee)

4-6 visas available

Obtainable TRN number

Possible bank account

Option of DU/Etisalat
The offers of this product by some business centers reach AED 10,000 yearly. For example, in Al Barsha Mall and similar there are currently two Estidama packs with the following charges:
AED 10,000 per annum, includes all of the above except the dedicated work desk.
Everything is in, including the dedicated desk. AED 13,000 per annum.
6. How can Connect Business Centers help you with an Estidama license in Dubai?
We are always ready to assist you. Connect Business Centers has partners that have registered the Estidama Dubai for many firms in the Emirate. They also have connections that make it easier and faster for you to receive the trade license with the Estidama from the DED.
Moreover, we suggest you use the Connect Business Centers' setup services. We provide full support in forming a business in Dubai. Our team will handle all of the paperwork for you to obtain the licenses and permits you need. Do not be concerned with procedures. Connect Business Centers can help you with a wide range of tasks. For many years, we have supported numerous ventures. As a result, we have built solid networks with public and private groups.
Also, we offer you our full range of offices, such as serviced offices, and more. Spaces for rent are now an essential part of business strategy. In addition, we have contact with the partners you need for starting your new offices using our property database.

Reach out to get your Estidama and the corresponding licenses. You can take full advantage by contacting us at +971 43 316 688 or via email at contact@connectbusinesscenters.com.