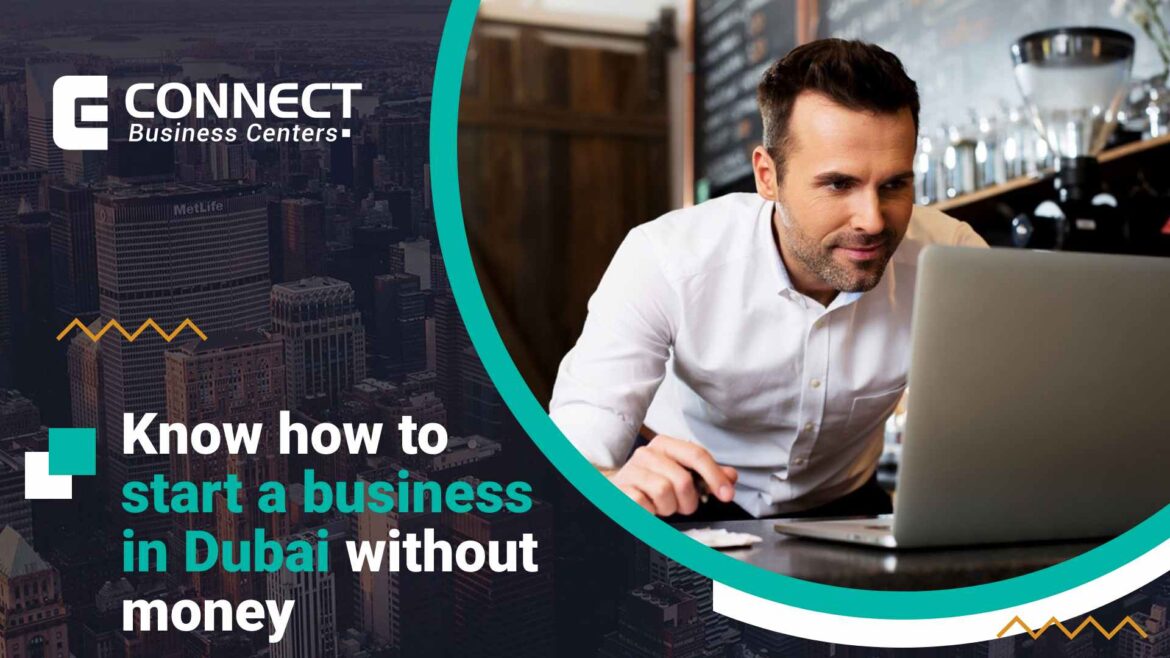 Can you start a business in Dubai without money? Believe it or not, the answer could be yes. Of course, it is not the most common thing to try to run a business without some capital. It is not even recommended, considering that it is not enough to open the business legally but to operate at full capacity, generating profits.
In this article, we will show you how to start a business in Dubai without money. Read this material carefully and you will see at least three practical methods. Without a doubt, Dubai is the land of entrepreneurs. We will address the following points:
What is the business environment like in Dubai?

How realistic is it to ask how to start a business in Dubai without money?

Different versions of how to start a business in Dubai without money, and their limitations

How we can help you start a business in Dubai without money
1. What is the Business Environment Like in Dubai?
Dubai is well-known for being the home of big money and big commerce. Along with its advantageous position between enormous markets to the east and west, the UAE also has a 0% tax rate for income and a supportive business climate.
However, these qualities combine to make the best location not only for large corporations. The UAE also has a broad network of sole proprietors, consultants, and SMEs. Behind the dazzling lights and skyscrapers lies a community of entrepreneurs who are self-funding their way to the top.
It is recommended to contact some Business Centers in Dubai to receive professional support for every process required. Any foreign investor must remember that the UAE is challenging in terms of culture, religion, language, and rules. 
2. How Realistic is it to Ask How to Start a Business in Dubai without Money?
Let us be clear: strictly speaking, it is impossible to answer affirmatively the question of how to start a business in Dubai without money. You cannot, legally and technically, even if you work online or as a freelancer because tax rules and fees are involved in all areas of UAE business.
Furthermore, to conduct a legitimate business in Dubai, you must be licensed, which comes at a cost. So the only option to establish a business in Dubai with no money is to become illegal, which is a bad idea.
However, there are some exploitable loopholes if we interpret the question using a less strict interpretation and focusing on pragmatics. The advice of some business centers in Dubai can help to get closer to that dream of starting a business with no money. Now, it seems necessary, before considering those options, to take a closer look at the fundamental cost issues that would have to be overcome.
2.1 Some critical issues concerning actual costs
For a better understanding of how to start a business without money in Dubai, we need to identify the aspects where we can check for avoidable costs. Some issues are:
Compulsory sponsors.

You could certainly join start-up organizations, hubs, and sponsorship centers, but they all require funding. You can avoid this trouble by setting up your business outside the mainland, in a free zone where they are not mandatory.

Taking a registered office address and Ejari procedures

.

While registering, some procedures ask for data that can only be provided by paying fees, including Ejari registration of

rented offices

. There are really low fees, and you can fulfill the procedures without effectively making the payments, at least temporarily. 

Trading firms should also consider the cost of bringing items into the country in the future. Customs costs will be lower if the firm solely trades within the GCC. Consider if your intended business activity requires you to keep an inventory and the costs associated with it.

A free zone company is not permitted to conduct business with UAE residents. If you want to conduct business in the UAE, you must hire a service agent. Inquire whether it is feasible to agree without paying any upfront fees on your part.
As you can see, there are many factors confronting an optimistic answer to our question of how to start a business without money in Dubai. In these circumstances, it is relevant to remember that the Business Centers located in the UAE can be excellent partners to support any strategy to set up your firm in the Emirate. They offer their PRO services and the rental of many types of offices (virtual spots, executive offices, meeting rooms, serviced spaces, and the like).
2.2 Some small charges
Let us see some numbers related to charged procedures that affect how to start a business in Dubai without money. This Emirate, as an investor-friendly place, only includes a few registration and documentation processes. Some of the charges involved are here.
Reserve a company name and register it with the Department of Economic Development (DED):

AED 110 for initial approval and AED 210 for name reservation.
At DED, notarize the company's Memorandum of Association:

0.25% of the capital (for three copies of the MoA), AED 5 for each page of the additional copy.
Apply for a business license from the Ministry of Labor:

AED 2,000
Ejari registration

(in the Typing Center):

AED 200
Where and How to Find an Ejari Typing Center in Dubai?
2.3 More complex cost issues
Other more difficult issues include licensing, funding capital, legal, and offices. So:
Cost of a business license
Keep in mind that every firm you start in Dubai will require a license. It is when the expense, however minor, enters the picture.
Your licensed activities must be identical to those you propose to do. A trade license in Dubai will cost anything from AED 15,000 to AED 50,000 or more.
Other capital/financing/installation expenses
The costs vary depending on the sort of business you wish to start (manufacturing, trade, services, or retail).
Legal costs (business setup costs, professional fees, government charges, etc)
It starts from AED 8,000 and goes up to AED 40,000.
Lease of commercial office/retail space (mandatory for the issuance of a business license)
Commercial office space starts in Dubai at AED 120/sq.ft./year. 
Repeatedly, we see how to appear several setbacks, conducing to a negative valuation of the query of how to start a business in Dubai without money.
3. Different Versions of How to Start a Business in Dubai Without Money, and Their Limitations
As we said before, there are strategies for thinking about new opportunities starting from a loose and pragmatic interpretation of "without money". Perhaps we should say: how to start a business in Dubai (almost) without money. The fact is that these ventures will require capital to get started. But it does not have to be several amounts.
The majority of the ideas involve little (if any) equipment or overhead. So, the only initial expense might be licensing. Finally, the best encouraging answer to this question comes from your history, skill set, and enthusiasm.
3.1 Begin in a free zone and use your abilities
One option to get a positive answer to our question of how to start a business without money in Dubai is to do it in a free zone, mainly thinking of exploiting your skills but combined with a promise of benefits to a capitalist partner. 
The strategy is to take advantage of the low cost of the registration fees in these zones, plus get a partner able to assume the few more costly parts. The exchange can be variable: shares, future profits, and interest. Regularly, you can expect to pay AED 10,000-15,000 for a business license in the free zone.  Consequently, that will be your principal commitment to the partner.
Therefore, if you are technically strong or have a novel company idea, you have the answer to how to start a business in Dubai without money using this strategy. So, try to locate a partner who will invest in the business as you take it to the next level with your talents.
3.2 Low-cost business ideas
There are many business ideas in the environment at a low cost. It gives the option of a positive answer on how to start a business in Dubai without money. It is effectively about to start an almost zero-cost business. Then, pay any delayed debt for fees or operating, using its first returns.
For illustrative purposes, we briefly showcase some of these low-cost ideas. 
3.2.1 Wellness
Health and wellness are great businesses in the Middle East. There is no need for extra funding if you have talent in this field. Teach yoga, become a fitness coach, or create nutritional regimens without expensive equipment.
3.2.2 Tutoring
Using your existing expertise is one of the best methods to keep costs down when beginning a business. Tutoring is an excellent way to do this. In other words, if you already have a talent that someone else would like to acquire, you are likely sitting on a terrific low-cost company concept.
3.2.3 Consultancy
You are quickly transforming into a consultant if you have stylish business clothes, a laptop, and an extensive understanding of your sector. If that is the case, you will need a small investment to start: to acquire your license, create a website, and maybe print a few business cards, and you are good to go.
3.2.4 Online trading
Setting up an internet business only takes computer knowledge, thanks to freely available e-commerce networks and template sites. All you need now is something to sell.
Use a drop shipping firm to keep prices down. These firms will store and distribute things on your behalf with no upfront storage or warehousing fees. And so on.
3.2.5 Catching a strong funder
In searching for a positive answer to the question of how to start a business without money in Dubai, other possibilities emerge. It is about exploiting a great idea in the technology sector by convincing some large financial systems. If you have a great idea, it is easy to obtain finance. There are several businesses eager to support you.
3.2.6 Incubators and Accelerators
The expansion of business incubators and accelerators in Dubai is fueled by private and government efforts. 
Some established incubation hubs specialized in technology, entertainment, and design allow candidates of all nationalities. The ideal candidate is a start-up with a solid business model that might benefit from low administrative expenses, continued training and coaching, and financing options.
3.2.7 Peer-to-peer and crowdfunding
Peer-to-peer lending is a method of finance in which an entrepreneur can obtain a loan from a group of people. Instead, most investors spread their money among many investments to reduce their risk.
In the UAE, several local and regional peer-to-peer lending organizations operate with multiple qualification requirements. Furthermore, although some lenders offer loans at or under commercial rates, others prefer to take stock in your company instead.  There are also creative crowdfunding services where you can fund things like a new product prototype without needing a company license.
3.2.8 Angel investors
An angel investor is a wealthy individual who offers capital to a start-up in exchange for a share of the company. They invest in a firm if they anticipate a high rate of return in the future.  The Internet contains thousands of angel investors. Some in Dubai specialize in female-led start-ups. Many are industry specialists, so there are possibilities for many sorts of enterprises.
4. How We Can Help You Start a Business in Dubai Without Money
This report has shown that it is possible to start a business in Dubai without money. There are only a few options, but they are out there. If you want to explore these alternatives, Connect Business Centers can connect you to all the business centers in Dubai so you can choose your best partner.
Working without financial support is not the best alternative, but Dubai's business environment is so good that there are possibilities for running a business without that support for a short time until you achieve your first benefits. 
This guide is helpful for those who want to take advantage of all the options while minimizing costs. Equally, Connect Business Centers will assist firms and individuals to start in Dubai with all the conditions, including no money.