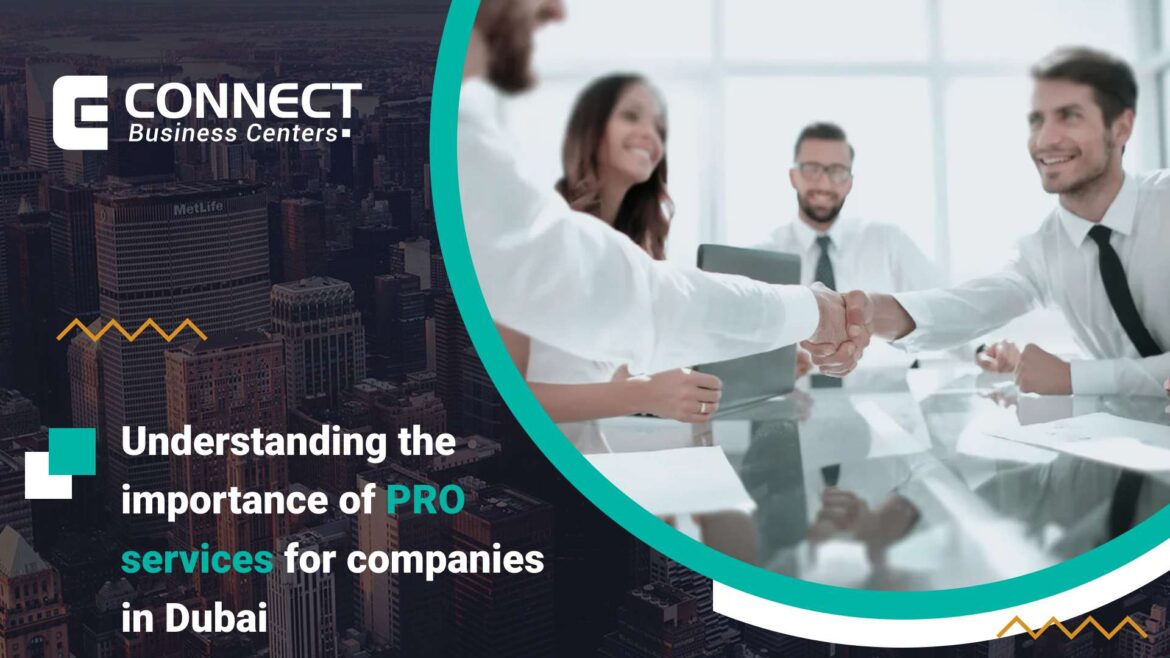 Dubai is an appreciated site for business people, entrepreneurs, and investors from all over the world. However, for many, the business world or the Middle East may be highly upsetting. This is when Dubai's business centers and experts in PRO services come in.
In this article, we will discuss the key advantages of PRO services and assist you in choosing the ideal one for you. Usually, the business centers are the providers of this sort of service. They will assist you in starting your business by getting from the business trade license required to lawfully do business to the residency visa in the Emirates.
Do you require a business center and its PRO services in the UAE?
What specific services can you request while choosing the PRO services?
How do PRO services in Dubai benefit your company?
How can we assist you in obtaining the best PRO services in Dubai?
1. Do You Require a Business Center and its PRO Services in the UAE?
Making money in a nation outside of your own seems exciting, but there are numerous factors to consider. It is not always simple to integrate into a vastly different context. Accessing a business center and Public Relations Officer services in Dubai is one method of overcoming such challenges.
Business centers and PRO services in Dubai simplify the lives of company owners. Through the business centers, they can assist you in disabling numerous hurdles that may arise during your business' existence. Also, these services can assist you in navigating Dubai's culture and religion. The business model represented by business centers and PRO services is today a subject of study in universities and management schools. Not only because of intellectual curiosity but because of the great impact they have had on the development of business worldwide.
Indeed, Dubai and the Emirates are now the most attractive investment destinations in the globe, with an open and friendly business environment with businesses leading the way.
1.1 Being more efficient and more effective
In a market so competitive as the global one, a spot in Dubai must mandatorily be the most efficient and effective. Business centers are for helping reach those goals. Firstly, they supply all kinds of offices you need in Dubai (you can find digital, virtual, flexible, shared, coworking, and fully serviced spaces). Also, they can give you all the support to set up your business from zero.
They have a staff that knows in-depth the Emirates, its culture, government, administration, and more. They have the PRO services that will drive all your procedures successfully and save costs. Businesses that wish to be more efficient must use these PRO services. Since some tasks must be completed just once by a firm, it is not a good idea to hire full-time specialists for these temporary positions. You may employ Public Relations Officers for a one-time cost.
1.2 What do the PRO services offer in the UAE?
If you are from the Western world, you will notice that the Arab world has quite distinct features. They are in art, religion, language, and politics. As a result, organizations like the business centers in Dubai have evolved to specialize in providing offices for rent and PRO services, playing a relevant role in offering complete access to any assistance. Therefore, they have the legally needed paperwork and skills to help in personal or corporate purposes. Consequently, they have developed enough expertise to do better performance.
Access to PRO services in the UAE should be a prerequisite for each new investor. They will be the ones that relieve you of jobs that are too difficult for someone unfamiliar with the local know-how. They succeed without causing you to worry or taking your attention away from the crucial parts of your organization. Public Relations Officers are also Government Liaison Officers. During the support provided to investors, they resolve relevant issues outside the business core, avoiding distracting your time and resources.
1.3 Strategic approach to PRO services
PRO services must also tackle strategic problems to achieve large goals for you. Keep in mind that any public relations officer you hire will represent your firm everywhere they go (your name, image, products). So, seize the opportunities not only for the short term but also for long-term and beneficial connections with them.
Businesses require dedicated business centers and PRO services in Dubai for several reasons. However, the most significant factor is that PRO service providers have years of knowledge in the Dubai business environment. This experience accumulates over time, which is why other organizations cannot readily imitate or replace the value of these services in the sector.
In the end, these services assist in meeting demands from local administrators, building relationships with the government, and supporting enterprises in achieving excellent outcomes. If your startup needs a place in one of the best business centers in Dubai, you must contact Connect Business Centers. This is the most powerful hub of business centers in the Emirates. You can search through our extensive database and you surely will find your best option.
1.4 When is the best time to hire PRO services?
Business centers and PRO services are employed during many phases of a company's life cycle. They can assist organizations in getting off to a good start. Public Relations Officers have strong relationships with government and non-government authorities. So, you may engage these specialists to get the best from the environment.
Unsurprisingly, you will need several trained people to get things running smoothly. The processing of legal procedures, for example, is a relevant task that requires expert personnel. Many details in the rules and contracts are only understood by natives, and so on. However, unless you are a law business, you do not require legal assistance every day of the week. This is when PRO services come in handy. You can employ them anytime you want legal support or guidance on any aspect of your organization, but not pay for a full-time service that you do not need.
2. What Specific Services Can You Request While Choosing the PRO Services?
PRO services have staff with extensive expertise working with government agencies to provide reliable answers. Above all, the best PRO services must adhere to regulations without incurring unnecessary expenditures, hassles, or stress.
These services must possess some operational abilities as the following:
Capability for forming a team at the lowest possible cost
Their own resources for carrying out their responsibilities
Knowledgeable collaborators in private and public sectors
Procedures for resolving any issue with official documents
An alert system to avoid expiry concerns
Low-risk exposure
Procedural transparency
Of course, there are many more specific tasks to achieve, but a fully comprehensive inventory is not realistic. However, consider the following services also as essentials:
Passport, visa, and ID services, residence formalities, and immigration processes
Recruitment, registration, and other labor-related processes before the Ministry of Labor
Trademarks and licenses
Ejari (for property contracts)
Arabic legal document translation
Document legalization
Medical Insurance Cards
Medical applications
Record-keeping (accounts, personal, relatives, employees)
Consultancy assistance
Note that each organization can request/offer its own most specific list.
3. How Do PRO Services in Dubai Benefit Your Company?
Already many hints have been presented about the benefits of a partner with a business center in Dubai and requesting its PRO services. Now, we can be more specific still. If you locate the correct Public Relations Officers, the benefits of their services will outweigh the costs of hiring them hugely. PRO services would be beneficial in aspects as below.
3.1 First-line benefits
3.1.1 Business establishment services
When you first start, the public relations professionals will interact on your behalf with authorities from Dubai's Department of Economic Development. They will secure the necessary permissions for your firm and the business trade licenses.
3.1.2 Services for patents and trademarks
For your business, you will need a name and a logo. It is a tedious procedure in which you must publish your trademark in the local press. PRO services handle all of this professionally.
3.1.3 Improve brand image
Customer loyalty is a pertinent aspect of success. A loyal consumer base is built around a powerful brand. A powerful brand is based on a highly recognized innovative image. Professional PRO services in Dubai work to position a positive inner awareness by the public. They will make your customers see your items and services as suitable to address their difficulties.
3.1.4 Skilled execution
Public relations professionals' expertise enables them to carry out numerous government tasks without snags. Avoid costly blunders in advance. This is why professional, local, experienced and proven procedures are required. Because of their clearly irreplaceable country living, public relations experts have developed multiple strong networks. Thus, these links allow them to fulfill numerous tasks before governments and individuals.
3.1.5 Cost-effectiveness
As said above, recruiting public relations professionals instead of full-time staff to undertake these same responsibilities is the best idea. Due to services provided by Public Relations Officers being intended to address one-time issues, you pay only for the effective use. Public Relations Officers' skills may also help make some savings by preventing possible difficulties.
3.2 Second-line supportive benefits
3.2.1 Document handling
When doing business in the UAE, especially in Dubai, much vital paperwork must be in Arabic. Public relations experts process all of these papers for you. Additionally, they also provide translation services.
3.2.2 Quality time
As known, time is money in the corporate world. The more time you spend on a process, the more cash you will have to apply for it. Indeed, when you are going through a government procedure for the first time, you will be puzzled and will need time to finish it. However, since Public Relations Officers have previously completed these steps, they have the requisite experience and contacts to finish these tasks promptly.
3.2.3 Additional consultancy services
Of course, you need to follow some protocols when doing government operations in Dubai. Professional PRO services ensure no mistakes actions when facing various business hurdles. Expertise is a critical part of the corporate world. Thus, professional services will ensure that you can rely on Public Relations Officers to handle your challenges.
3.2.4 Services of Liquidation
Finally, when you wish to quit and liquidate your venture, public relations professionals will assist you with all legal rules, allowing you to ease.
4. How Can We Assist You in Obtaining the Best PRO Services in Dubai?
What can we do for you? We have assisted countless firms in establishing themselves in the UAE. As a consequence, we have created ties and networks with a variety of government and non-government groups. These enable us to tackle your problems quickly and efficiently. Therefore, you can always contact us at any time to discuss your expectations.
PRO services are essential tools for anyone looking to start an enterprise as a foreigner. We have the office spaces you need to thrive in business using our database. If you want to start a business in the UAE, do not wait any longer and choose the best services.