Get Meeting rooms Dubai with Connect Business Centers
Meeting Rooms- As a business, you need to have a place where you can hold your meetings, and conferences and receive visitors. Moreover, the meeting room needs to have a reputable address and a modern infrastructure for you to give a good impression to your guests.
Having a place where you can run your meetings efficiently thanks to having the necessary equipment and state-of-the-art amenities is a must if you want to make your business stand out and look professional. Consequently, signing new business partnerships, contracts with clients, and deals with suppliers require you to have a suitable space to welcome all of them and make them feel comfortable.
Here at Connect Business Center, we can help you get the best Meeting room to rent or conference room for your business. From group brainstorming to hosting one-on-one meetings, you can find the ideal place for your company to satisfy your needs. We provide the following:
A Meeting rooms for rent in Dubai with 100 or 300 sq. ft, equipped with the latest technology.
We help you with everything related to logistics so you do not have to worry about anything.
Our Meeting rooms count on brilliant surroundings and help you create the perfect business environment for your ideas and conferences to flourish.
We have the perfect Meeting rooms for rent in Dubai for your business since we have a wide variety of sizes and locations.
Our team of legal consultant offers consultancy and management of the paperwork so you can rent the space without any trouble.
You get access to all of our amenities such as high-speed internet, pantry room, coffee, and much more.
The meeting room have the fundamentals to carry out a successful meeting like projectors, sound systems, and more.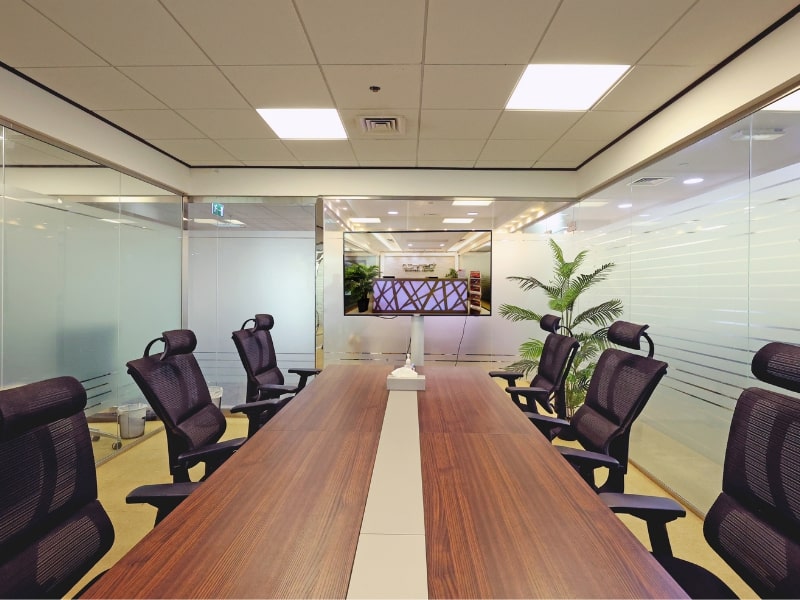 Top Benefits with Meeting Rooms For Rent in Dubai
Having an excellent Meeting rooms for rent in Dubai where you can conduct your business and receive your guests can boost your company. If you are a business that is looking to offer conferences, close deals, train your staff, or even have a place to let ideas flow, then you need to have a great meeting rooms or conference room for rent UAE as a complement for your corporation.
Leasing office space with a meeting rooms or conference room can be costly, but with Connect Business Centers you can find the perfect affordable choice for your company.
Here are the reasons why renting a meeting room in Dubai is a brilliant decision for your business:
1. Flexible rental agreements
Rent Meeting room Dubai as per your needs and spend only a fraction of what would cost to rent an office with a meeting rooms or conference room included. You get to choose how you want to use the space, whether it is for an hour meeting or an 8-hour training for your employees. Moreover, you can decide if you would like to rent it for just a day, a week or more time. We adapt to your requirements.
2. Customization
With the Meeting rooms of Connect Business Centers, you get to customize the floor and area layout according to your particular requirements. This way you get the maximum use of your space and make sure you give a good impression to your visitors.
3. Ready-to-use
Book meeting rooms for rent in Dubai with us, you just need to let us know the time and date when you want to use it. You do not have to worry about anything else since we will take care of having everything ready to welcome your guests and ensure you have a well-equipped space to conduct your activity. As you can access to a variety of options including small meeting room.
4. Access to amenities
In Connect Business Centers we understand how important it is to offer great amenities to visitors so they can enjoy being there. For this reason, we offer high-speed, secure internet, a pantry room, coffee, tea, and much more as per your requests. Moreover, we offer audiovisual equipment, stationery materials, blackboards, and everything you need to do your presentation or meeting a success. Therefore meeting room booking with us can easily serve your purpose.
5. Privileged location and administrative staff
Our meeting rooms are located strategically in Dubai to let your visitors find the place easily. In addition, our trained administrative staff will greet your guests politely and treat them with the utmost professionalism to lead them to the meeting room, A full-time receptionist and other administrative staff will be at your disposal.
6. Different formats of meetings
You can rent a office meeting room with us and we will adapt it according to your chosen format for the meeting. If you are planning to do a coworking session, career fair, job interview, or any other, we will assess your current needs and provide a suitable solution. For example, if you are going to make a presentation, we ensure the audio and video systems work perfectly so you can succeed.
In Connect Business Centers we offer hourly renting meeting room and any preparation you may need. Moreover, our customizable area layouts allow you to get the most out of your meeting rooms in Dubai. Contact us to get a solution based on your
The Best Meeting Rooms and Conference Room in Dubai for your business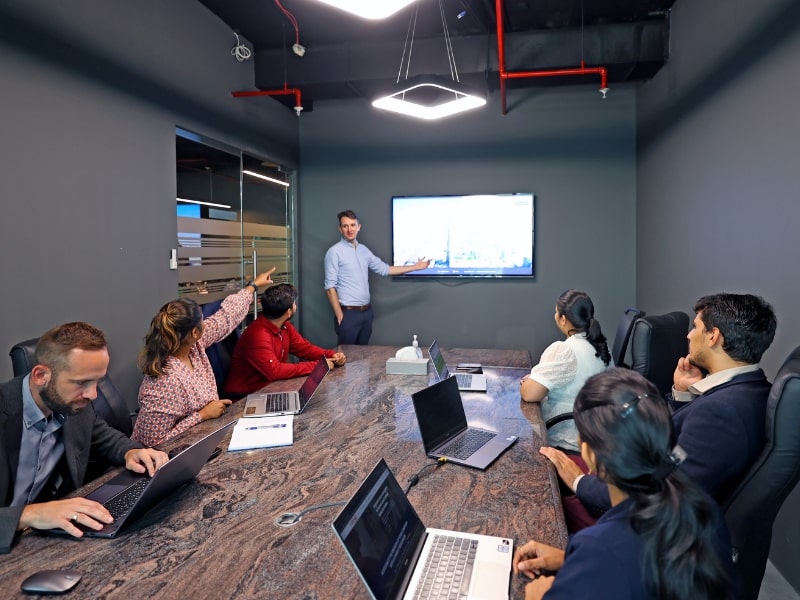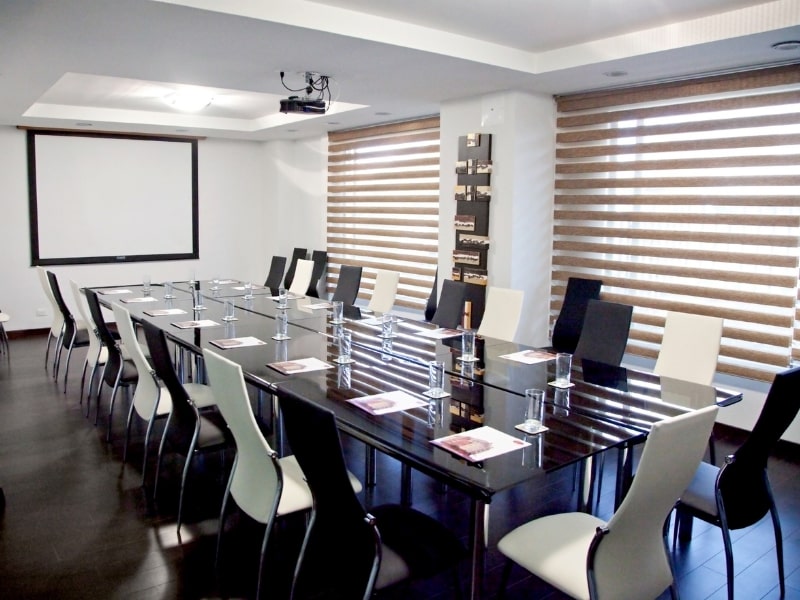 In Connect Business Centers you can search for the best Meeting rooms for rent in Dubai for your company. You can find a place to strengthen your image with our assistance. Start using our services so you can serve your customers, receive guests, and forge new business relationships. Whether you need to rent our room for an hour or a full day, we have the perfect solution for you. Enhance your prestige and ensure total comfort in your meetings with our assistance.
If you are in Dubai, or you are planning to host a business event in this place, we have a suitable a meeting room for you. Our 100 sq. ft. meeting room is perfect for carrying out that conference or presentation you have been planning. In this place you can carry out any of the following activities:
Workshops
In our meeting rooms, you can carry out your workshops to develop your particular project or subject with total comfort. You can cater this activity to your clients, or your current employees, to encourage discussion and feedback about a popular topic while you are the host.
Training activities
Our meeting rooms has all the necessary to conduct training sessions successfully. We have all the amenities your team may need so they can feel like they want to learn and grow. We offer a space where they can think, participate, and collaborate while flourishing together.
Presentations
Hosting a presentation can be a challenging task for your company. You may feel nervous about it, but you want everything to turn out excellent. With our meeting rooms, we offer you peace of mind, since we can have everything ready for you so you do not have to focus on preparing the room for your guests.
Conferences
If you are looking for the best conference room for rent UAE, here in Connect Business Centers we have the perfect one. You can use our sober and elegant space to promote concentration and avoid distractions among the attendees. With our support and amenities, you can be sure that your conference is going to be a success.
Brainstorming sessions
Having a place where your employees can participate together and work on a project is a must if you want to reach your objectives as a company. For this reason, it is important to have a Meeting rooms for rent where they can meet and make the most out of the brainstorming session by not having any interruptions and feeling totally comfortable.
Meeting Rooms for Rent in Dubai with Connect Business Centers
We offer the most modern Meeting rooms for rent in Dubai where you can hold your meetings and conferences. In Connect Business Centers we have a variety of options for you to choose the ideal one.
You can find a meeting room perfect for your company since we have of all sizes. Consequently, each meeting rooms has a prime location in Dubai, so your guests can find it easily. We also offer meeting rooms in the most privileged areas of the main cities in the UAE. So, no matter where you are, you can find the perfect place with the following features:
Flexible renting arrangement since you can use the space for one hour, half-day, or full-day, for the days that you want.
Get immediate availability of essential materials for your meeting
The aesthetics of our meeting rooms can be customized according to the image you want to give to your guests
Access to our best administrative staff to help you welcome and lead your guests to the meeting rooms.
Meet with your clients, vendors, and employees in any place thanks to our wide availability of meeting rooms across the United Arab Emirates.
Get all the technology and comfort you need to hold your meeting by having access to fast internet, projectors, catering service, computer equipment, office material, sound equipment, and much more.
A clean and organized space where you can have a good concentrate on your task
Functional and ergonomic furniture that ensures everyone is comfortable
A business environment with sobriety and elegancy but also with serenity and relaxation thanks to the decoration and arrangement
Possibility to carry out a variety of activities such as training sessions, and presentations, and even use it as a meeting rooms or Conference room for rent UAE.
Good lighting and essential elements in outstanding conditions
Connect Business Centers is your best option for renting Meeting Room
Connect Business Centers is your main choice for finding the perfect Meeting rooms for your business in Dubai. Our goal is to provide you with an outstanding place for meetings, conferences, workshops, and any other type of activity you would like to carry out.
You can find the Meeting rooms suitable for your business that will be a refuge for inspiration and creativity. A place where you can develop and nurture the best ideas for your company and where you can make a good impression on your clients, visitors, vendors, and more.
Here are the services that we offer with our meeting rooms:
Documentation Support
With the renting of one of our meeting rooms, you receive support on the documentation you need. We can help you deal with all the required paperwork so you can have the perfect place in the UAE to hold your meetings. Our experts will advise you to have all you need for renting the space.
Administrative Services
Renting one of our meeting rooms ensures you get the best service from one of our full-time receptionists and other administrative staff. They will prepare everything you need in your meeting rooms or conference room by equipping it as per your requirements. We take care of all of your administrative essentials while you can focus on your presentation.
Business Consultation
Our legal experts help you avoid any issue or penalty by providing legal consultation on how to follow the local law. We ensure you comprehend all the legal processes involved with renting a meeting rooms in Dubai so you can avoid future problems. Our team guarantees you comply with what is established by the legal authorities,
Sophisticated algorithm
Are you looking for the perfect meeting rooms for your business? Or perhaps you are interested in finding office space? Regardless of your needs, we are the platform that can help you find the best properties across the UAE.
You can do a quick search through our website to find all the properties listed, and do a search regarding your budget. Our algorithm will immediately filter the options so you can find the best place in terms of location and price.
In Connect Business Centers we know how crucial it is to ensure a smooth running of a business meeting. Whether you are hosting a conference, a team-building, a shareholders meeting, or a training session, we make sure you do not get any interruptions and you have all you need to attain your goal.
Connect Business Centers is the perfect choice for finding a suitable place for your business in the UAE. Contact us to learn more about our services.
Enjoy the comfort and assets of our meeting rooms
With Connect Business Centers you will be able to book the most sought meeting rooms in the United Arab Emirates. When renting a meeting room with the support of our agents, you will not have to worry about anything. Consequently, our professional team will ensure that every single one of your requirements is specified in the contract.
Once you get in touch with us, we will send you our catalog with a wide variety of meeting rooms for you to choose from. After you select a meeting room, you will be able to pick what benefits you would like to have while you and your team stay there. Likewise, when you rent a meeting room with our help you will be making the most out of our deal for a low cost.
Our meeting rooms for rent in Dubai count with top-notch business services that can make you feel comfortable right from the beginning. With a meeting room in UAE, you can have high-speed WiFi, state-of-the-art technology, receptionist service, event staff, and more. Our meeting room solutions are the most sophisticated in the area.
Lastly, booking a meeting room or conference room for rent with us that will allow you to have different renting options. You can rent our meeting rooms for a day, a week, a month, or more. We ensure you that we can cover all your necessities so you do not have to stress over anything. Our agents are ready to meet your requirements and help you with your event.